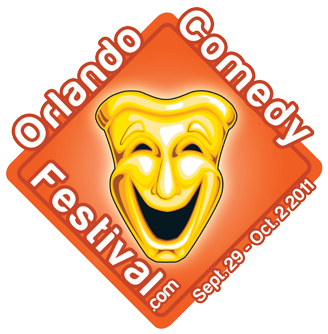 Orlandoans who like to LOL (or even, heaven help us, ROTFL) have had a cargo-load of comedy to choose from this week. Hot on the heels of the 2nd Annual Orlando Improv Festival, with concluded on Tuesday, comes the brand-new 2011 Orlando Comedy Festival. This celebration of stand-up comedy is hosted by Sleuths Mystery Dinner Theatre, in co-operation with Todd Ferren (Mama's Comedy Show, Wally Dog Entertainment), and runs from tonight through through Sunday October 2nd.
We were excited to bring you an exclusive interview with nationally-known comedian Nick DiPaolo, who is headlining event. Unfortunately, due to a scheduling snafu, said phone chat never occurred. Instead, we present an unadulterated compendium (aka lazy cut-and-paste job) of this week's festivities, direct from the festival's media kit – which also thougtfully included a T-shirt and teeth-destroying Laffy Taffy.
All thirty-plus performances will presented at the Sleuths theater at 8267 International Drive. Tickets range from $5 to $20, with discounts of advance orders and multiple tickets. Call 407-363-1985 or visit www.orlandocomedyfestival.com for tickets and more information.
Thursday Sept 29th
6:30pm Festival Opening Party with Sal the Stockbroker & Shuli Egar
8:00pm "Sons of Hilarity" Tom Murphy, Pedro Lima, & Darren Moore
Did you feel that?! If you suddenly have erect....nipples, don't be concerned, there is nothing to fear. The Sons of Hilarity are coming. Formerly of the (almost) popular sports comedy podcast The Fifth Base Show, Pedro Lima and Tom Murphy are reuniting to bring the power and the glory to the Orlando Comedy Festival. They guaranty a mildly amusing time for all those who are willing to listen. Come sit and laugh while they stand and talk. Pedro Lima is a Puerto Rican from New York. Tom Murphy is an Irishman from New York. For one night only they will put their racial differences aside for your enjoyment, once it's over they will return to their modern day Sharks vs. Jets hatred for one another. Come Bare Witness.
8:00pm Jason Hunter
Jason Hunter cemented his name in comedy as an opening act for such names as Bob Saget, Pablo Fransisco, Dave Atell, Michael Winslow, Robert Schimmel, Jeff Dunham and so many more. Now Jason is doing his own thing as a nationally touring headliner himself, traveling the country with his own brand of 'self-evaluation' humor. His take on his own marriage, the surrounding pop-culture and 'redneck' ninjas are just some of the topics that Jason dives into with no regard of how he will look at the end of it all. Jason has been featured on Rooftop Comedy and was a national finalist in the Purina Pet Challenge. He has also been seen on CBS Comedy Night School, FOX and appeared in the film "A Guy Walks into a Bar", and can be regularly heard in rotation on satellite radio.
8:45pm "Lady Bits" Heather Leonardi & Jeanette Clause
Lady Bits features the bold and quirky comedy of Jeanette Cause and Heather Leonardi. It's two ladies, a pair of boots, one ukelele, and a gentle but thorough exploration of truck testicles, the rules of life, and the philosophy of buttcrack.
9:30pm Richy Lala with Matt Zigan & Becky Merola
As seen on A&E, MTV, and VH1, Comedian Richy Lala (Richard Leis) is a happy-go-lucky native Philadelphian whose improv and musical influences shock audiences all over the country. On stage he jumps from sincerity to sarcasm, dry wit to up-roaring energy! Crowd after crowd love this unique, hard working, funny man! A twenty plus year student and producer of the arts, Richy is a born Stand-Up.
9:45pm Charlie Bowie
10:00pm Sal The Stockbroker & Shuli Egar
Sal The Stockbroker & Shuli Egar will be performing live on Sept 29th @ 10:30pm at Sleuths. Don't miss out on a chance to see these two comedic minds come together for a great night of stories about the show, and lots of laughs. Sal can be heard daily as a personality & writer for the Howard Stern Radio show on SiriusXM©. Tickets will be available for a meet and greet before hand at the festival opening night party and are a separate ticket.
Friday Sept 30th
6:30pm Two Cougars & a House Cat featuring Francine Green, Juanita Lolita and Trish Keating.
Three sexy comedians, three different points of view and always funny! These Orlando and Tampa Bay Area comedians have formed a pack, sharpened their claws and are on the prowl to bring their brand of humor to the stage! Acts range from racy to downright dirty to PG clean; this professional show offers something for everyone. This show is perfect for a girl's night out, a fun date night and an evening that man cubs and wolves will long remember!
6:30pm Magic and Other Suspect Activities featuring Peter Gross
Not since Chris Angel made is his own career disappear has there been a magical presentation that made people really sit up and take notice. Now the Orlando Comedy Festival presents a comedy show with just as many surprises but less acid washed denim and no need for pressure bandages. Come see Festival's only night of comedy that makes you say "Holy Cow" or maybe even "W.T.F". Peter has wowed audiences at schools, theaters and festivals in Vancouver, Toronto, Charleston, Boston, New York and even Madrid Spain. He's been featured at the world famous Just For Laughs Festival, in Montreal and has performed in in Germany, Japan, Holland, and the U.K.
7:30pm A Little Night Magic with V
Come for a magic show unlike any you have ever seen. More David Blaine than David Copperfield, "A Little Night Magic with V." explores the world of illusion, sleight of hand, and psychic abilities in a purely stripped down environment. You are able to see the magic without the distractions of strobe lights, lots of smoke, or obnoxious Phil Collins music. By combining comedy, technical skill, and love for the art of magic, V is proud to present a show twenty years in the making. Once you've seen "A Little Night Magic", you can never see magic the same way again.
8:00pm Mama's Comedy Primetime Show
Mama's Comedy Show has been performing every Friday night at Sleuths Mystery Dinner Theater for more than 2 years now! For the Orlando Comedy Festival, the family of Mama's has something extra special. From the famous "mouse traps" to some new musical numbers, Mama's is throwing everything at the audience except the kitchen sink! Over the past 2 years, audiences have raved about the show, and come back on a regular basis to see the hilarity that IS Mama's. Mama's pulls no punches, and the show is intended for mature audiences. This comedy show is for "grown-ups".
8:00pm "Whoops!" by Neil Bernard
Canadian Funnyman Neil Bernard brings his unique brand of comedy to The 1st Annual Orlando Comedy Festival with the premiere of his new one-man show, Whoops! In this clean, clever, thought-provoking, high comedy performance, Neil plays a character named Whoops MacGee who's luck with women, family, and life in general is so ridiculously horrible that it will make you feel thankful that your life isn't half as bad! Neil Bernard is a creative, multi-talented, and daring performer who is always taking risks to try something new with his infinite mind of mysterious originality. He has been seen in numerous plays and improvised comedy shows in the Orlando area, but is best known for his solo performances at The Orlando International Fringe Theatre Festival including his latest successful one-man show, Everything You'll Ever Find On Television! (almost). You can see more of Neil Bernard's brand of humor with his online sketch comedy videos on his website, NeilBernard.com, and at other upcoming performances of his many different one-man shows at venues throughout the Orlando area this year. Neil is honored to be one of the many talented comedians at the first-ever Orlando Comedy Festival and is looking forward to seeing you at his show laughing and laughing and laughing until you explode!
9:00pm Will Hagaman
Dr. Will Hagaman, actor, comic and unlicensed doctor is a transplant from Ohio where his years of studying aerospace engineering eventually led him to a degree in theatre. He has since become a student of Comedy and has nursed his funny bone in venues throughout Orlando including Arabian Nights, Sleuth's Mystery Dinner Theatre, and Walt Disney World. This self-appointed doctor knows one thing above all else: laughter truly is the best medicine, and a check up with Dr. Will is sure to leave you in stitches.
9:15pm Evan Ferl
As seen on FOX, TBS, LA's Comedy Store, and Comedy Radio 24/7, Evan Ferl brings his own blend of intelligent and witty comedy to the stage, all wrapped up in the awkwardly adolescent body of a Swedish pre-teen. Known for his unique view of the world, he leaves the audience laughing with every show. Evan began his stand up career as a law student at the University of Florida, but realized that suits and ties were no match for jeans and jokes. Evan's comedic talent will keep you thinking, and more importantly, laughing.
10:30pm Nick DiPaolo
In this day of watered down comedy Nick Di Paolo's brutally honest performances remind us of what great stand up should be: funny, socially relevant and a little bit reckless. Nick began his career in his hometown of Boston and two-years later made the jump to New York, where he found his seething, sarcastic style was welcomed with open arms by New York audiences. His strong political opinions have been heard on FNC's Hannity, Red Eye, Fox and Friends as well as CNN's Joy Behar. His razor wit also allows him to sub for Dennis Miller as well as Dan Patrick. He is a favorite on both Howard Stern and Opie and Anthony and has hosted his own show on New York's 92.3 Free FM. Hide the women and children
here comes Nick Di Paolo.
10:30pm "Moms Mabley" featuring Allison Johnson
Allison Johnson was born and raised in New York City where she quickly made a name for herself as the 'raise your glass' female comedian. Allie has performed throughout New York at the city's most renowned clubs such as NY Improv, The New York Comedy Club, Comedy Strip Live and Gotham Comedy Club to name a few. Allie was also featured on VH1. Since her craft was cultivated in theater she created and performs her own One Woman Show. Allie is also one of three radio host on the popular "LET'S TALK MONEY" and the Finally Friday Radio Show with Allison Johnson on 1680AM WOKB Radio. Allie's clever and realistic views on life makes her a show stopper every time. Raise Your Glass for the one and only Bad Girl of Comedy and Allison Johnson as the new-original Moms Mabley, One Woman Show.
10:45pm Wunderbread of Comedy
Four up and coming comics in the Orlando Stand-up Comedy scene, Josh Daws, Luke Swiderski, Josh Lear, and Morgan Filteau make up The Wunderbread of Comedy. A regular host for Bonkerz Comedy, Josh Daws earned the title of Central Florida's Funniest Office Worker with his energetic comedic stylings. Josh and Luke shared the first place title in Raw Dog Comedy's Mega Mic Competition. Luke, a frequent performer in the Orlando Improv Pro/Am shows, brings a fresh voice to the central Florida scene. Josh Lear offers a unique and creative comedic voice to the quartet. Winner of XL106.7's Comedy Contest at the Central Florida Fair, Morgan provides the female perspective, albeit an awkward and nerdy one, to the Wunderbread with her sarcastic wit. You may not recognize them, but you know who else people didn't recognize? Jesus.
Saturday Oct 1st
5:30pm 20 Penny Circus featuring Vaudville Circus acts
Come one, come all, to the retro, twisted and charming 20 Penny Circus .A night of magic and entertainment for those of questionable taste, The 20 Penny Circus offers a variety show. Utilizing mind reading, magic, circus arts, sideshow, and the miraculous, they bring all the energy and excitement of the big top to the stage. You can witness live fire eating and fire balancing, teleportations, a live Russian roulette, escapes, hilarious comedy and so much more. You will have questions that will not be answered. The Puzzles you see will be left unsolved, and you will see things you will not believe. Always with something new, exciting, and edgy.
6:00pm Absent Minded Improv Attacks!
Absent Minded Improv ATTACKS! Coming to the Orlando Comedy Festival stage on Saturday, October 1st at 6pm is The Absent Minded Improv Comedy Troupe. They bring with them a high-energy, action-packed show for all ages where everything is made up on the spot based on audience suggestions. Come see for yourselves. We guarantee you will laugh! The troupe has been a mainstay in the Orlando area since 2006, and currently performs regularly at Put A Cork In It Wine Bar on Sand Lake Road.
7:00pm The Infinite Jester featuring Arnie Ellis
A local legend and 20 year veteran of the Orlando comedy scene. He has toured clubs and colleges all over the South East, and was a featured comic at last year's annual Comedy For A Cause benefit at Harvard. Co-Host of El Chupapodcast on Rampant Radio, and also known as The Infinite Jester on IzonOrlando. We call him The Prophet
7:15pm 2 Guys 1 Stage featuring Mike Charette and Jigy
Mike Charette has opened for Bobby Lee, Screech, and was also featured in 3 of the Orlando Improv Pro-Am showcases. Jigy opened for Steve Byrne, Tommy Johnagin and can be seen on www.rooftopcomedy.com
7:30pm A**h*les Anonymous featuring D. Russo & Friends
D. Russo is a force to behold. Built like a professional wrestler, with the stage presence & charisma to match, this Italian ex-Marine from NY takes the audience on a trip through the world from his own original (and sometimes outrageous) point of view. From family and parenting, sex, relationships, the benefits of a Shakeweight, and the evils of GoGurt...nothing is off limits or "too soon". A rising star in the state, he has opened for Craig Gass, Tom Segura, Mike Vecchione, TuRae Gordon, and many more! Greg Eisenberg, a young comic from Philadelphia, holds nothing back as he has his audience laughing at jokes about sex, love, and the many cultures of the world. You'll be rolling from his snide remarks and hilarious jokes, unless you are the target. And then your friends will be.
8:30pm Short Bus to Hell Comedy Show featuring Kevin White, Myke Hurlihy, Carmen Morales
Join Orlando favorites Carmen Morales,Kevin White and Myke Herlihy for a show that willingly goes too far, too soon. No subject is too taboo for this funny threesome! Saturday night 8:30 to 9:30, this show is the perfect companion to the Big Nick DiPaolo Show! Start your night right with The Short Bus to Hell!
8:45pm "Sons of Hilarity" Tom Murphy, Pedro Lima, & Darren Moore
9:00pm "I Can Be a Drag Queen if I Wanna..." featuring Michele Feren
Michele Feren conquered the world as the drunk Amish girl in the film "Sex Drive". She worked Bruce Campbell's chin when she appeared on the hit series "Burn Notice". Now she's going to explore the varied world of drag and alternative cabaret in her new one-woman show, "I Can Be A Drag Queen If I Wanna." A rollicking roller coaster of fierce flamboyance, outrageous characters, and hilarious antics, all from Michele's unique comedic point of view. Strap yourselves in, or is it "on"?, for a wild ride inside the mind, the wardrobe, and the iTunes library, of the incomparable comedienne- Michele Feren.
10:30pm Nick DiPaolo
10:30pm The Not Safe for Work Comedy Show
Four of Central Florida's funniest up-and-coming young comedians can't be trusted to babysit, but they can be trusted to provide a room full of people with a night full of laughs. Alex Luchun, Clay Robertson, Nick Pupo and Danny Davenport present their show, "Not Safe For Work" at the Orlando Comedy Festival. You can't make up real life, but these comics make it real funny.
12:15am Big Tim & Friends Comedy Show featuring Adam Murray & Rob Wright
Sunday Oct 2nd
6:45pm Two Cougars & A House Cat
7:00pm "Whoops!" by Neil Bernard
7:10pm A Pair of Nuts
Yamil Piedra and Johnny Trabanco are A Pair of Nuts! This nationally touring Emmy Award winning comedy duo has been performing together since 1998 where they met in college at Florida International University. Selected as "Hot Comedy" for 2011 by Campus Activities Magazine, their work has garnered them critical acclaim and have been featured on Comedy Central's Tosh.0, Last Call with Carson Daly, VH1's Money Hungry, and MegaTV's El Vacilon. Their online videos have been featured all over the internet garnering millions of views worldwide on videos like "Gayo" and "The Law Offices of Facmee & Diaz." Their live stage show is an award winning multimedia sketch comedy show that features hilarious sketches and off the wall short videos. Their style of comedy has been compared to a modern day Abbott & Costello, a throwback to old school comedy duos with a modern, edgy flair. DO NOT miss your chance to catch A Pair of Nuts LIVE!
8:15pm Wunderbread of Comedy
8:30pm Ms. Hope and Rahn Hortman Just D*** Funny Comedy Show
This show is not for the easily offended but for those who know funny believe me it's everywhere just look for it and enjoy the ride!
8:45pm Heavy Hitters of Orlando featuring Dean Napolitano, Ian Gutoskie, Arnie Ellis, Ken Miller
Heavy Hitters Of Orlando! Come and see 4 of some the funniest comedians Orlando has to offer. Featuring Ken Miller, Arnie Ellis, Ian Gutoskie & Dean Napolitano. These four comedians are often regular headliners for a variety of comedy clubs here in Orlando. Don't miss this chance to catch all four of them at once. You won't want to miss out on the evening of laughter they will bring to the stage.