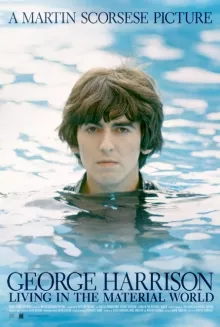 All of you Beatles and Scorsese fans, don't forget to set your alarm or your DVR for HBO tonight when Part I of the two part documentary about the legendary George Harrison premiers.
Filled with celebrity interviews from the surviving Beatles, Eric Clapton, Tom Petty, Monty Python members Eric Idle and Terry Gilliam, amongst others.
There is a great scene in Vanilla Sky where Tom Cruise and Kurt Russell are talking about -- judging, really -- people's lives by who their favorite Beatle was. It's an old theory, something I heard from my cousin Tim when 12 or 13. People have different favorite Beatles at different times of their lives is the basic gist of it, but I never had that. George has always been my favorite Beatle. Maybe I'll become a Paul fan in the future, but I tend to doubt it. The first song I can remember hearing -- really remember hearing -- was Got My Mind Set on You, driving in the car with my mom when I was really young, five or six maybe. The drumbeat is completely infectious, the multi-sax bridge, the chorus and even the repetitive chorus-like verses with that twangy riff laid to bed right underneath it make the whole thing the perfect first adult song for a kid to hear. It's a total gateway song.
Anyway, I always have a little more respect for people who feel the same way.
Part I airs tonight at 9pm.
Part II airs tomorrow night, also at 9pm.
[youtube AGMMXK-661M]