Interwebs entrepreneurs are trying to make bank on a new trend: Occupy Wall Street merchandise, web domains and apparel.
Today on eBay, a Kingston, N.Y. user going by the name diversjim is trying to auction off the web domain weoccupywallstreet.com. "Be part of one of the greatest social movements this century – endless ideas," the item description notes. Starting bid: $5,000.
If you don't mind owning a slightly less grabby domain name for your social movement, you can pick up the domain 99percentclub.com for $75 using eBay's "Buy it Now" feature.
Not sure what you're going to wear to the occupation? Etsy, Zazzle and eBay vendors have you covered. Romberstompertees will sell you a "We are the 99% that will no longer tolerate the greed and corruption of the 1%" T-shirt for a mere $11.99. (If you'd like to wear something a little less didactic during your protest march, they also sell "I [heart] Justin Bieber" and "Beaver Liquor" party tees.) Looking for an understated black T that tells everyone how hip you are to social-media driven social protest? The bold yellow color block on this shirt, imprinted with "#occupywallstreet" should do the trick. It's for sale on Etsy for $20.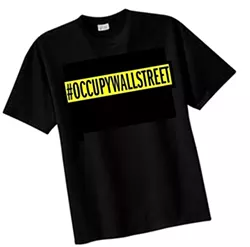 Want to take your message on the road with you? Try this sleek oval "I am the 99 percent" Eurosticker. Just $2.99 on eBay, or the slightly flashier "Occupy Wall St." vinyl decal, with both cursive and block lettering, for $3.99.
And finally, for those who don't like to mince words, there's the Wall St./Shit St. bumper sticker in green, available in lots of 50 for $24.99.
Who says the Occupy Wall Street movement is bad for the economy? It seems to be fueling its own little cottage industry online.