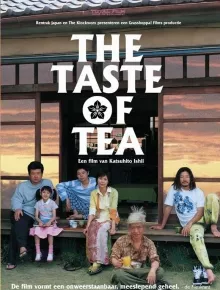 One could attempt to describe Katsuhito Ishii's The Taste of Tea, but one would fail at doing so. Modest and understated, yet with much depth of spirit, it's the kind of live action film that only an animator could direct, and, really, only a Japanese animator could direct.
It is the story of a family, but not of their hardships or burdens, dark secrets, infidelities. We see them move through their daily lives, making incremental progress (or not), much like ourselves.
Point a gun at my head and I suppose I'd have to call it a slice of life, but it is one of the most delicious, charming slices I've ever encountered, a joyful experience that isn't cynically engineered to be joyful. Ishii doesn't bother with manipulations to squeeze the joy out of us. Instead, the characters are left alone and observed, and it is fully an extension of the clear, straightforward humanity they possess that makes this such an exciting film to lie back and disappear into.
As the film opens, we find young Hajime (Takahiro Sato) running after a train to try and scream a last goodbye to his crush as she exits his life. Hajime has never talked to this girl, afraid of what might or might not happen if he did. Not able to outrun the train to get a word in, he watches the train speed away from him. A shape starts to form on his forehead, and, slowly, the train he was chasing down emerges from his head, floating away into the clouds, the girl waving goodbye to him.
On first viewing, it's a shocking departure from reality that takes a while to come to terms with. But it's the perfect way to set the film up, because this is the sort of thing that you need to expect from it. Anything can happen at any time. The film is not grounded in any kind of Earth-based reality, but is all the better for it.
The Taste of Tea takes place in the sprawling countryside just outside of Tokyo, where much of the family commutes to by train to the city for school or work. The small, typical Japanese-style house serves as a central checkpoint for each family member along the way, but aside from Yoshiko (Satomi Tezuka), the mother, who spends all of her free time at her kitchen table animating, trying to get back into the game now that she has time again, most of the film takes place in school rooms, offices and recording studios, on trains and casual strolls, where a gust of wind is as important as a gunshot in the scheme of things.
Strange things are occurring to Hajime's younger sister, Sachiko (Maya Banno), too. Apparently suffering from an early onset existential crisis, she is being shadowed throughout the day by a big version of herself. It sits and watches her at home and at school, curious and half bored like staring into a fish tank for too long. Sachiko is bothered at her core about this, but keeps it to herself.
Ishii is possibly more well known for his "wacky-Japan" type films, like Shark Skin Man and Peach Hip Girl, Party 7 and Funky Forrest, all starring the somewhat enigmatic Tadanobu Asano, but he finds his real calling here, I feel. It's an incredible accomplishment to direct something so subtle, especially when your instinct seems to tell you to go big to get the laugh. But there are just as many laughs here in the quiet movements of The Taste of Tea, which features Asano as well, but in the smaller role of Uncle Ayano, a sound mixer from Tokyo whose existential crisis takes on a different shape than Sachiko's.
Like I said in the open, one could try and explain this film and easily fail at doing so. And I have, I know. It's almost pointless to keep trying, because I keep getting further from the point the more I write. There is no explaining Grandpa (Tatsuya Gashuin), who is the force behind the film in many ways, for instance, nor the path Hajime decides on taking when he falls in love with Aoi, played by the lovely half-Japanese, half-Russian Anna Tsuchiya. It's an elusive film that exists entirely in its sense and feel. To put it in sports terms, The Taste of Tea is all intangibles, delivering exactly what is needed when the time comes. Absurd and lovely in equal lengths, beautifully photographed and acted (and animated at times), there is a great and gentle beauty to it, a drifting, gauzy summer lushness that will take you away from yourself for a little while if only you'll let it. A little bit of faith in the film brings with it a deep reward. It might not help you shake any demons off of your back permanently, but it might put a smile on your face and scare them away for a while.
[youtube 2NcBL6cYGL4]
[youtube 01wOhgg27dM]