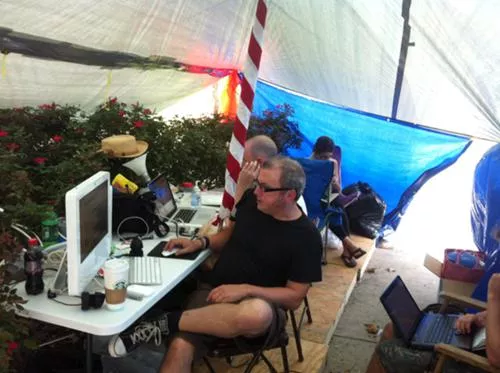 Though tonight's forecast calls for 90 percent chance of rain, the activists rallying under the banner of Occupy Orlando are nowhere close to leaving Senator Beth Johnson Park--that's not an option. Instead, they're building a small village of structures out of donated tarps and sleeping in their cars; some are staying in personal tents erected on the opposite side of Ivanhoe Boulevard, next to the abandoned WBDO building in a vacant lot which some are calling "Occupy 2.0." Uniting the occupiers is their anger over the social, economic, and political status quo, which they feel favors the wealthiest one percent at the expense of the other 99 percent--but adopting an overarching goal, or list of demands, still appears to be in the distant future for Occupy Orlando. "This is going to be a long process," says David, a 42 year-old medical transcriptionist who, like many other volunteers, declined to give his last name. "It could take three months; it could take a year."
David says he has only gone home once in the past four days – a half hour to retrieve his computer and a change of clothes – and on his ankle could still be seen the faded imprint of the telephone number of Jackie Dowd, one of the attorneys heading the group's legal team. Many other activists had also tattooed themselves with vital telephone numbers in case they were arrested at one of the daily marches that the group has been staging down Orange Avenue since Saturday morning. It was then, Oct. 15, that the occupation officially began with a march of 1,000-plus people, which streamed south towards City Hall, then doubled back towards the park on Garland Street.
The number of dedicated activists staying near the park after its closing time of 11 p.m. has actually grown over the past few days, according to David. On Saturday, Sunday, and Monday nights, he says he counted 40, 62, and 85 people, respectively. "We don't want bodies leaving here," he said. Today, he sat at his computer under a collection of tarps lashed between palm trees, monitoring the weather. Also on David's screen was a chat window from the Occupy Orlando Livestream, which, besides providing a live video broadcast from Senator Beth Johnson Park, serves as a sounding board for people on the ground to advertise their need for supplies. Many of the donations are unsolicited, however—this morning, according to another volunteer, a sympathizer dropped off 25 Burger King breakfast sandwiches.
Nearby, a 25 year-old theme park employee named Drew, who slept in his car last night (the police are reportedly allowing the tarp structures to remain in the park after 11, but people are still required to leave), was helping to pin down a tent with concrete blocks. When asked what he may have been doing if he had not chosen to join the occupation, he says: "There's not a whole lot I would really be doing other than dinking around on the Internet. I feel that this is a much more productive pastime."