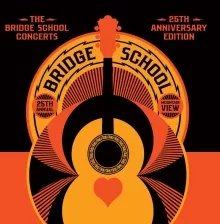 In case you have no plans or plans that don't quite measure up to the likes of Neil Young and Arcade Fire live, you can stream the entire Bridge School Benefit concert over the weekend on YouTube.
The Bridge School is a non-profit, innovative organization educating children with severe speech and physical impairments through the use of augmentative and alternative communication systems and assistive technology.
Artists for this year's show include: Neil Young, Dave Matthews, Arcade Fire, Eddie Vedder, Los Invisibles (featuring Carlos Santana, Cindy Blackman Santana & guests), Beck, Mumford & Sons, Devendra Banhart and Norah Jones with The Little Willies.
He is some more info:
YouTube: http://www.youtube.com/bridgebenefitconcert

Facebook: http://www.facebook.com/SupportBridgeSchool

Follow us on Twitter: @bridgeconcert

This is the hashtag being used - #supportbridgeschool

Alternate hashtag - #supportbridgeschool  #bridgeschool

Text2Give: *Thru the help of MobileCause, those watching the webcast and the audience at Shoreline will all be able to support the Bridge School in their fund raising efforts. Text bridge to 80888 and reply YES to donate $10 to the Bridge School