God is all knowing and infallible. Whether in Catholic school, CCD, or just from your parents, you are taught that at an early age. As a kid, I imagined God as an invisible man looking over my shoulder at everything I did. Everything. God was ever present, all knowing, and, hopefully, approving. He didn't take sabbaticals to go to the Jersey Shore and play pinball.
Did he?
Did she?
In Kevin Smith's Dogma, God does, and apparently is not all knowing, allowing himself (Bud Cort) to be jumped by demonic triplets wielding hockey sticks, thus falling into a coma.
Two banished angels, Bartleby (Ben Affleck) and Loki (Matt Damon), mean to exploit this absence. Years before, they had been sent by an angry God to suffer for the rest of time in Wisconsin. Needless to say, they've grown tired of the Cheesehead state, but more than that, they've grown tired of seeing these lesser being -- humans -- treated with favor by God. Together, with the guidance of Azrael (Jason Lee), they set out for a New Jersey church to exploit a loophole in dogmatic law and make their way back into Heaven.
Religion has always been a wonderful foil for comedy, and none better to poke fun at than Catholicism, who, even with the late rash of evangelical gay sex scandals, still deserves it the most. The film's main conceit is that man is essentially the flaw in God's plan. It riffs on the biggest pain in the ass in the history of religious pains in the ass: indulgences. They were one of Martin Luther's main sticking points in the 1500s, so this isn't exactly new, but a clever spin on an old problem, though it is more stupidity that causes the ill will here than greed.
The powers that be in Heaven have, of course, caught wind of this plan and have sent the Metatron (Alan Rickman) to rally troops to stop them. Enter Bethany (Linda Fiorentino), a lapsed Catholic; Rufus (Chris Rock), the black 13th apostle who is pissed about being written out of the Bible; Serendipity (Salma Hayek), a muse-slash-stripper ; and Jay and Silent Bob (Jason Mewes, Kevin Smith), the lost New Jersey prophets.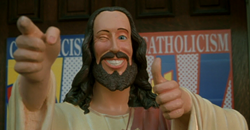 As the motley crew crosses the country they are chased by the hockey stick wielding triplets, and the ever-popular rubber poop monster (voiced by Ethan Suplee), but mostly they just get in their own way. Bethany's crisis of faith, especially, is something that holds them back. It's something she just can't get past, despite having been visited by, you know, an angel -- the angel, even. I suppose it's natural to be suspicious when the help you are given come in the form of Jay and Silent Bob, though, who themselves are wondering why they haven't yet prophesized anything.
It turns to be not so cut and dry for Bartleby and Loki though. Having been banished to Earth for eternity by God, should they pass through the gates of the Holy Mother Church, a loophole in biblical dogma would have proved God wrong by readmitting the two rogue angels, thus obliterating all existence. It's exactly what Azrael, another muse who was banished to hell for draft dodging, is banking on. Hell is apparently worse than Wisconsin. I always thought it was a tie.
But despite the 500 year old, well essayed problem, the film exudes and undeniable freshness, and that is entirely down to the equal measures of playfulness and authority in Kevin Smith's writing. There has never quite been a film like this, and I don't think there ever will be again (thanks to its box office numbers). Regardless, his jokes are spot on, topical and unflinchingly in the know.
That was, I think, the main problem with Red State. Smith didn't live in that culture, so it doesn't ring as authentic. But he grew up in the same kind of Irish-Catholic household that I did, right down to the clueless priests trying to make Catholicism cool for kids and teenagers. He has Cardinal Glick and the Buddy Christ; I had cool Father F**** (I don't want to out the guy since Google has plenty of articles on him -- no, not those kinds of articles) and the Catholic magician whose name I've since stamped out of my memory. Still, it amounts to the same thing in the end. Catholicism has more problems than solutions, has made more mistakes than goodness, and is often too aloof to bear, but it makes a lifelong mark on anyone its comes into contact with, whether they like it or not. Like I said, though, it's a biased view. To me, every joke in the film works both as a joke and as a skewer. Red State didn't get the joke or the skewer right.
More than a religious document, though, Dogma is a road movie with a stoner comedy flair. Religion is just its topic, not its genre. And it's such a smart and candid film. It was a growth spurt in filmmaking balls by Smith, one that bears its puny-muscled action set piece muscle with its tongue planted as firmly in its cheek as during it's comedy set pieces. I'm not sure what happened to Kevin Smith from then until now. His life changed during Dogma, I guess, when he met his wife and started a family. He mellowed, or just stopped being the kid he was. He's thrown a lot of darts at the board since, and most have ended up somewhere in the wall outside of the board.
I suppose it's just that some directors have a shelf life. The long distance filmmakers, like Scorsese or Spielberg or Ford, are the anomalies, not the rule. How many of those indie wave filmmakers are still around? Even Tarantino has waned somewhat. Sundance isn't so kind when it comes to longevity. You can only tell the same jokes for so long before you need new material, and going from stoner comedies to the more adult themes Smith was experiencing in his life just didn't find the spark it needed when it came to filmmaking.
Trailer: [youtube 20CRw3XdETA] "Dogma is dog shit!" Talking about the protests: [youtube