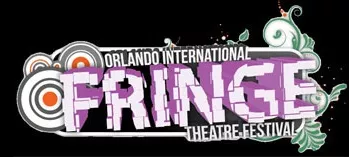 If you follow me on Twitter (@skubersky) you may have been confused by an avalanche of incoherent messages this past Monday night. Fear not for my sanity; I was only live-tweeting the results of the 2012 Orlando International Fringe Theatre Festival lottery, held at the Parliament House's Footlights Theater.
Just as in past years, the productions presented at next May's Fringe Festival were drawn from the pool of applicants in a random lottery. This time, the event was overseen by Fringe general manger George Wallace and newly-appointed producer Michael Marinaccio, with the actual drawing performed by Fringe supporter David Horgan.
It should be noted that at the end of the evening, there were 50 shows not selected that were placed on the wait list, including many popular past performers such as Martin Dockery, Orlando Youth Theater, and Miss Hiccup. Some of these groups have already been moved onto the schedule, and others may be added as the Festival approaches. But there were enough excess applicants (above the 70-odd shows the festival's facilities can support) that some favorites are certain to be left out. Bad news for their fans, but great news for the future of the Fringe.
See below for the full Fringe press release, along with a complete list of the lucky shows:
On Monday, November 21, Orlando Fringe held it's annual lottery for the 21st Annual Orlando Fringe Theatre Festival at The Parliament House's Footlight Theatre.  Led by Festival Producer, Michael Marinaccio and General Manager, George Wallace, Fringe patron and sponsor David Horgan pulled the names.  There were 119 applications for the Festival this year which equates to a waitlist of 50 or so artists from around the world.
Here is the current line-up (schedule to change pending waitlist, drop-outs and space availability)
Updated 11/23/11 3:20pm:
Blue Venue
Theatre de Follies-Ottawa, ON
Humor Mill Orlando-Davenport, FL
Dulce Art Works, Inc.-Orlando, FL
Sandrine Lafond-Montreal, PQ
My Three Moms-New York, NY
Breakthrough Theatre-Winter Park, FL
Gabrielle Brown-Orlando, FL
Playwright's Round Table-Orlando, FL
Silver Glass Productions-Tampa, FL
JCC Players- Maitland, FL
Brown Venue
Dutch Girl Productions-Toronto, ON
Nettle Productions-Orlando, FL
Richard Paul Presents-Windermere, FL
Beth Marshall Presents Paul Strickland-Paduccah, Kentucky
Kevin J. Thornton-Nashville, TN
Renegade Theater-Longwood, FL
Hand Puppet, Inc. in association with Short Stack and Tall Pants-Los Angeles, CA
Spider Goat Giggles-Orlando, FL
BYOV
Jeff Ferree-Orlando, FL
Voci Dance/IBEX Puppetry-Orlando, FL
Green Venue
Dance Naked Productions-Portland, OR
Tim Lee-Los Angeles, CA
Rake Theater and the Movement Project-Boynton Beach, FL
Tod Kimbro and Babybluestar Productions-Orlando, FL
Uncover the Color/Canvas Creative Movement Coalition-Orlando, FL
The Monkey King-Altamonte Springs, FL
TOBO Productions-Orlando, FL
Nobody's Sweetheart-Kissimmee, FL
Bobby Desormier-Orlando, FL
Twin Arrows - Orlando, FL
Orange Venue
Orlando School of Cultural Dance-Orlando, FL
SAK Theatre Company-Orlando, FL
NAB Entertainment-Orlando, FL
D Squared Productions-Orlando, FL
Carbon Productions-Casselberry, FL
Screw You Entertainment-Naples, FL
Miga Me-Orlando, FL
Wanzie Presents, Orlando, FL
Patron's Room
Bernie O'Brien-Mount Dora, FL
Pet Projects-Kissimmee, FL
Slothco Productions-Orlando, FL
Sleuth's Mystery Dinner Shows-Orlando, FL
Comedy Bar-Toronto, ON
Will Hageman-Orlando, FL
Tonya Jone Miller-Portland, OR
D'Yan Forrest-NY, NY
Pink Venue
Timothy Mooney Rep Theatre-Prospect Heights, IL
Local Rascal Productions-Toronto, ON
Homicidal Orphan Productions-Orlando, FL
Concrete Drops, London, ON
Celebration Barn Theatre-So. Portland, ME
Penguin Point Productions-Casselberry, FL
Ba'aser Presents-Orlando, FL
John Ryan and his DIVA'S-Orlando, FL
TBear Productions-Clermont, FL
Red Venue
Botwot Productions-Aspen, CO
James Judd-San Francisco, CA
Music Over U Productions-Deltona, FL
Shot in the Dark-Celebration, FL
Nickel Under Foot - Orlando, FL
Silver Venue
Toxic Audio-Las Vegas, NV
Paul Cosentino-New York, NY
Theatreworks Florida-Davenport, FL
Dare to Know Productions-Tampa, FL
Yow Dance-Lake Buena Vista, FL
Excellent Adventures and Coronado Entertainment Group-Orlando, FL
Chase Padgett-Winter Garden, FL
Color Me Blue with Central Florida Sounds of Freedom Band and Color Guard-Orlando, FL
Yellow Venue
Tim Montley-Victoria, AUSTRALIA
TJ Dawe-Vancouver, BC
Silver Dollar Productions-Orlando, FL
Good Thinking Company-Encinitas, CA
The Bicycling Comedian-Key West, FL
PB & J Theatre Factory-Winter Park, FL
ID 10T Productions-Orlando, FL
Queen Mother Productions-Orlando, FL
Logan Donahoo Presents-Winter Park, FL
Current Wait List (top 12)
1-Myhrr-Santa Clara, Utah
2-Pistolsniffer-Altamonte
3-Brooklyn Star-Clermont
4-EmptySpaces-Sanford
5-OYT-Orl.
6-Flaming Pie-Winter Prk.
7-Exulo-Orl.
8-Keyhole-Mt. Dora
9-Point Blank-Oviedo
10-Downtowners-Orl.
11-GOAT-Winter Prk.
12-Osara Soup-Tokyo, JAPAN