It's Christmas eve in New York City and a fabulously well-dressed woman is trying on a bracelet in a 5th Avenue  jewelry store. It's beautiful and shiny, mesmerizing to the eye, but she'd like to see another one, she tells the clerk, and as soon as his back is turned, she's gone -- and so is the bracelet.
Written by Preston Sturges and directed by Mitchel Leisen, Remember the Night was made in Hollywood during the time of the Hays Code, and as such, the woman, Lee Leander (Barbara Stanwyck), is caught red handed only a few blocks from the scene of the crime, where she is trying to hock the bracelet at a pawn shop.
Fearing a softening of the human heart in the jury pool during the Christmas season, as well as at Lee's pretty, doe-eyed face, the New York DA sends his most handsome, most charming assistant, John Sargeant (Fred MacMurray), to prosecute.
MacMurray's John Sargeant is a little too slick for his own good, and it's his heart that goes all gooey and gives way to the burden of guilt for sending this pretty lady to the slammer for the holidays. He arranges to have her bailed out for the holidays, but the bailbondsman misconstrues his motives and has her delivered to John's custody just as he is about to leave to visit his mother in Indiana.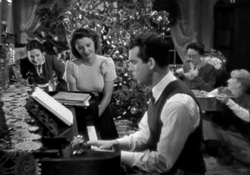 Remember the Night marks the first of the Stanwyck/MacMurray pairings, and they show a level of instant easy comfort with other here that would be repeated most notably in Billy Wilder's Double Indemnity. Stanwyck is a real old screwball dame, shapely and gorgeous but sharp witted and sassy, the last vestiges of a tomboy childhood spent in pants, climbing trees. Sturges's script feels a little too constrained by the Code and is not as cohesive here as you would expect of him, but still contains passages that hold up with any of his best work, like Sullivan's Travels and The Lady Eve. Part of the thing that gets in the way of the writing is that no one on Earth could mistakes Stanwyck's Brooklyn accent for anything but that. She isn't miscast for the character, but the character is forced as being from Small Town Indiana, and it's a bit of a hard Cannoli to swallow when she reveals that her hometown is only a few miles from John's. But swallow you must, for he takes her along with him on his holiday road trip to Indiana so she can visit the home she ran away from as a teenager before, as he says, he tries to put her in jail for as long as he can.
After the typical mix-ups with some Pennsylvania hicks, and an unfortunate cow-milking incident, they arrive at Lee's home town, where the meeting with her mother does not go well. The film is, for the most part, brightly lit except for this scene, where Stanwyck, MacMurray and Georgia Caine are wreathed in a cold darkness that is reminiscent of the Manor House scenes David Lean's Great Expectations, except that Miss Havisham looks like Mrs. Claus next to Lee's mother, who would have been just as happy to never see Lee again.
It's a devastating scene, and it makes everything John is to do for the rest of the film make perfect sense. What is a small crush on Lee until this point becomes a protective love to John, who is very much in the mold of the Gary Cooperesque strong, dependable male here. MacMurray is not my favorite actor, but he makes it work all the same, taking a fairly weak screenplay (sorry, Preston!) and churning something memorable out of it. It was never destined to be a classic, but is a charming appetizer to the main course of Christmas classics that we all know by heart.
[youtube vDoPjsSvWok]