A tattoo artist inks participants on the outskirts of the crowd at the People's Convention of Florida
All photos by
Rob Bartlett
.
On Sunday, a crowd of people gathered in the plaza outside City Hall in Orlando for Day Two of the People's Convention of Florida, an Occupy [INSERT YOUR CITY NAME HERE]-related event at which various delegations of Occupiers from cities across Florida met to hammer out a series of proposals to present to the legislature in January.
On Saturday, the delegates met and broke off into working groups (covering everything from voting issues to the environment to human rights) and on Sunday, proposals from those groups were discussed, dissected, argued over and ... well, gesticulated upon.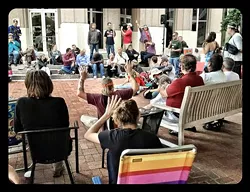 Valerie Cepero of Occupy Orlando speaks to the People's Convention
At around midday on Sunday, the group was discussing whether or not it would be more effective to work with the legislature on some modest proposals that stood some chance of gaining traction and support, or whether to create a series of hardcore demands – no matter how radical – that the group would insist upon.
"We are not looking to be part of the existing political process," one speaker declared to a resounding silent chorus of upward-turned hands.
Other speakers, including lawyer Shayan Elahi who has been donating his time to be part of Occupy Orlando's legal team, said the group needed to be more practical: "I think we need to have a two-part process," he told the crowd. "I think we need to have a long-term goal and a short-term goal." Long-term, he said, Occupy could work toward comprehensive changes upon which Occupy is founded; short-term, he said, the group should try to "work within the existing system" to accomplish more achievable goals. His suggestion was met with a mixed response.
But then, so were many things – at one point, there was even discussion over whether the proposals that ultimately come out of the convention should be called "demands" or something softer and more palatable. (But what other word would be more appropriate? Petitions, maybe? Suggestions? Wishes? Thesaurus check!)
One clean-cut looking speaker took the microphone and said that Occupy's message needed to be more clear and accessible to gain more support; he said his young, liberal, college-educated friends (the kind who should be supporting this sort of effort) don't quite get what Occupy is about. He said he'd like to see a list from the convention that people can relate to. Lots of upward finger wags for him.
Whatever they end up calling the list, and whatever it will ultimately include, said Valerie Cepero of Occupy Orlando during a break in the meeting, must first be agreed upon by the various state Occupy organizations. After the convention, the delegates will bring the proposals back home for their larger groups to review. Eventually – hopefully before the beginning of the legislative session – a final list that everyone can agree upon will come together.
In other words, this story is to be continued.