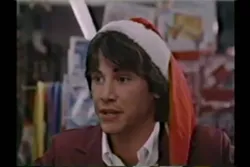 Victor Herbert's 1903 operetta
Babes in Toyland
has a rich history over the last century; initially commissioned to capitalize on the
Wizard of Oz
craze at the turn of the century, the story of a magical world of fairy-tale and nursery-rhyme citizens ruled by the evil Barnaby first opened at the Grand Opera House in Chicago and has since been adapted, co-opted and retold by
Laurel and Hardy
, puppets, Walt Disney and MGM. But none of these adaptations can compare in pure WTF insanity to a
1986 TV movie
that's still only available on VHS ... or so I thought. Turns out – as is the case with almost anything these days – some enterprising gentleman transferred one of their tapes to the glorious YouTube, where it can be appreciated by anyone with an hour to kill and Valium at the ready. Eleven-year-old (and early-Little-Girl-Lost phase)
Drew Barrymore
stars as Lisa Piper, a girl so busy caring for her family (which we see exactly 2 minutes of at the very beginning) that she doesn't really care for toys. Her sister works in customer service at a local mart managed by the inappropriately flirty
Richard Mulligan
. He loathes that the sister (who, in Toyland, is Mary Contrary) has the hots for "the skinny stock boy with his finger in the till" Jack Fenton/Be-Nimble, played by
Keanu Reeves
. Driving home during a blizzard, happily singing an upbeat song about Cincinnati, of all places, they hit a bump and Lisa goes flying out the back, where she stumbles into Toyland. I'll give you a minute to process that paragraph. You good? All right. So Lisa nonchalantly accepts her new destination, and is brought up to speed by Georgie Porgie, who looks like pre-weight-loss
Jonah Hill
: Barnaby Barnicle (Mulligan) owns a dominating amount of land in Toyland, lives with his minions and omnipotent Fraggle creature in a
bowling-ball-shaped house
that he sometimes uses to demolish the village when bitches act up.
He's set to
marry Mary Contrary
, due to some nonsense about deeds and Jack-Be-Nimble's dad. Lisa speaks up and stops the wedding, claiming that Mary actually loves Jack. This sets off an epic battle involving woodland creatures, a toymaker played by Pat Morita and a climactic battle royale with
buggy cars
.
Again, I state for the record, I am not currently under the influence of hallucinogens.
This happened.
[youtube 62DGe9i9lGQ&feature=related] All the players seem to know they're in a doomed production and they give it a good 80% effort throughout, especially Mulligan. And there are things to enjoy here. Besides a couple of Herbert's original compositions, pretty decent, forgotten holiday tunes abound (yes, even "Cincinnati" is perfectly hummable). These songs were written by Leslie Bricusse, whose impressive resume includes
Victor/Victoria
and
Willa Wonka & the Chocolate Factory
. The screenplay is by Paul Zindel, a co-writer on
Mame
starring
Lucille Ball
. So there's a very credible musical undercurrent at work here. Too bad the production values, Barrymore's blank performance and absurd touches really enhance the shoddy, B-nature of the movie. Still, I can't say it's not fun to watch Reeves developing his surfer-bro, innocent heartthrob persona so early on. I say since we're at the
appetizer portion
of the 12 days of Christmas (13?), give the first segment a go and see if you can stick with it through some buffering. [youtube HE53AzMZie4]