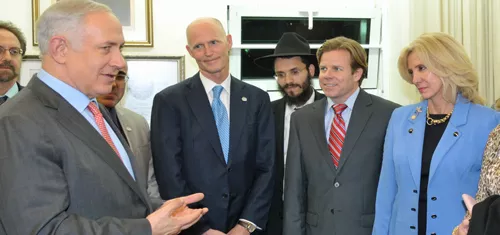 Gov. Rick Scott is, uh, badgering FAMU's Board of Trustees chairman, Solomon Badger, to suspend James Ammons, the university's president, in light of "investigations," according to a fancy press release that just came flying across our wires (or by e-mail, whichever image you prefer). This naturally comes on the heels of the Tallahassee school's troubles with hazing allegations in its marching band, but according to FDLE, the proposed suspension isn't due to the death of Robert Champion (and ostensibly the band playing on) but because of "financial irregularities having to do with the band."
We guess hazing's an expensive endeavor? Kidding. But as observers of our dumb state know, the state's colleges and universities are already suffering from grave financial irregularities — like not having any money to be viable colleges and universities.
Whither, the jobs governor?
Below: the governor's press release in full.
MEMORANDUM DATE: December 15, 2011

TO: All Interested Media

FROM: Brian Burgess, Communications Director Executive Office of the Governor

RE: Update on FAMU Investigations After returning from a trade mission to Israel today, Governor Scott was briefed by members of his senior staff regarding the latest developments in the Florida Agricultural and Mechanical University (FAMU) investigations. Governor Scott has since had a conversation with FAMU Board of Trustees Chairman Solomon Badger regarding the Board's meeting next Monday, Dec. 19. Governor Scott has strongly recommended to Chairman Badger that at the meeting, the Board of Trustees place FAMU President James Ammons on suspension, effective immediately, until the investigations at the University are completed. Governor Scott has also placed a call to FAMU President Ammons to personally notify him of these discussions. If you have any questions or need additional information, please call Governor Scott's press office at (850) 488-5394.