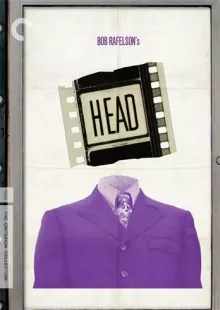 We're taking a break from Christmas Crazy today, but it'll be back with a vengeance tomorrow.
But the first thing we need to do this weekend is pause to say RIP Bert Schneider, the man who gave us Head.
Okay, I should explain that. When Schneider and his partners Bob Rafelson and Steve Blauner went to produce the first Monkees movie, Head, they reportedly wanted it named that so they could put "from the guys who gave you Head" on the sequel posters.
I'm so sad I didn't get to live through the drug-addled 70s Hollywood.
Schneider also produced Five Easy Pieces, which Rafelson directed, and is one of my favorite films of all time. They also did Easy Rider, which is not one of my favorites of all time, but I seem to be in the minority on that front.
You can check out their work together in the Criterion set, The BBS Story or go and pick up Peter Biskind's Easy Riders, Raging Bulls to get a real appreciation for him. Rafelson was clearly the genius of the group -- and a severely underrated director -- but Bert was certainly no slouch, though he got caught up in some really unfortunate bullshit when he befriended Black Panther leader Huey P. Newton, who ended up jumping bail on Bert's dime after killing a 17 year old prostitute in Oakland.
Anyway, Hanukkah has begun and we're a week out from Christmas now. Christmas, aka the day War Horse comes out. Thanks Santa Steve!
-Speaking of Santa Steve, I think Kevin Lee is making a little bit too much of "the Spielberg Face" in this video essay. It's a shot that works well for his stories, which are almost all filled with a childlike aspect, and is also part, I think, of his obsession with John Ford, who Spielberg met during his early days sneaking around the back lot. Ford is rather unfortunately known for his vista shots, but what he should be known for is his landmark reaction shots, which he used as sparingly as his dialogue, giving it that much more impact when he did use them. (/Film)
-I would join together with Trekkers to take battle Twihards, but I just don't give enough of a shit about Twilight. I believe it will end up an embarrassment to a lot of these kids who love it now, like New Kids on the Block or Vanilla Ice for my generation. As for the adults who like it, well, you really should be ashamed of yourselves. (The Guardian)
-Will Mia Wasikowska end up playing the Mi-do role in Spike Lee's Oldboy remake? Gang Hye-jeong's shoes are not easy ones to step into. Though she is a relatively unknown actor here, she has a really rare mix of qualities in her arsenal, foremost among them is that she projects a childlike loneliness better than anyone else I've ever seen -- not that childlike loneliness is a common character trait. (She embodies this totally in the Korean War film Welcome to Dongmakgol, which bends genres from drama to wild comedy in a sort of unfortunate way, but is still very much worth a watch.) I could see Wasikowska doing okay with it, I guess. She has some semblance of that quality with her kind of goofy smile, but my whole line of thinking could be flawed because its based on what Park Chan-wook did with the film. I have no idea what Spike Lee will do with it, except we can assume at one point there will be a montage of racial stereotypes and mirror gazing, I suppose? (Twitch)
-Reading this profile of Diablo Cody might actually make you feel guilty about all of those times you grunted "I hate Diablo Cody" when she says "I felt like I was rejected as a person. Like, that was the real me. Your whole life you suspect you're unlikable, and I have proof. It sucks to get proof." But then she compares fame to terminal illness, which will make you say "I hate Diablo Cody" all over again. (NY Mag)
-Letters like this one from a 13-year-old Liz Taylor to a fan who was sad that her bird died make me so bitter that none of my childhood fan letters ever got a reply. Damn you, idols. (Letters of Note)
-Hey, look: Michel Gondry sweded Taxi Driver. (Vulture)
-So, uh, Tom Cruise really did his own stunts on the outside of the Burj Khalifa in Dubai for Mission: Impossible 4. Brad Bird can barely disguise the devilish grin when he says "let's go again." Maybe Tom should have been the next Spider-man instead of Andrew Garfield? (Ebert)
-Even the Paparazzi lament the dumbing down of celebrity culture. (CNN)
-Herein, the Oscar winning editors of David Fincher's The Girl with the Dragon Tattoo, Angus Wall and Kirk Baxter, break down the editing in a four minute sequence from early on in the film. (NYT)
-Sean Bell on the enduring... uh, legacy, of Gore Vidal's Caligula, which was the first porno my friends and I ever saw. What a way to start, eh? (Popmatters)
-The thinking behind the history of British film censorship. It's a British papers, so naturally Maria Schneider is quite naked in the header image from Last Tango in Paris, so that's something to be aware of. (The Guardian)
Trailers, posters, etc:
-Okay, I found Tiny Furniture to be fairly innocuous and undeserving of the extreme vitriol it gets on the internet, but this teaser for Lena Dunham's HBO show, Girls, made me a little queasy. (YouTube)
-Sasha Baron Cohen in The Dictator. I have a sneaking suspicion that the 100 meter dash at the end will be the funniest thing in the movie. It was pretty damn funny, but much like the Ali G movie, nothing else about this looks funny at all. (AOL)
-MIB³, which I think technically makes this MIB 27, no? (Apple)
-Rock of Ages, brah. (Apple)
-Will Ferrel's latest probable flop, Casa de mi Padre. (El Manzana)