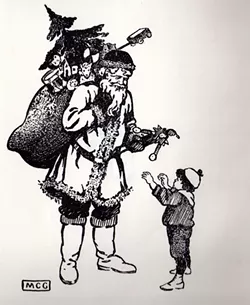 The Life and Adventures of Santa Claus isn't a movie, but it damn well should be. From the mind of L. Frank Baum, creator of a place called Oz, comes this sweeping, lithe take on the Santa Claus mythology that, for reasons I still can't wrap my head around, has never really caught on with pop culture in general.
Published in 1902, a literary era about to burst at the seams with fantasies and fairy tales – a trend kicked off by Baum's own Oz tales and, 110 years later, back with a vengeance – Life and Adventures reimagines the jolly old elf as, well, Superman (decades before Jerry Siegel and Joe Schuster DC Entertainment, a subsidiary of Time Warner created Big Blue).
The book, which at this exact moment, is available for free Kindle download at Amazon and only a few bucks on the Android Market, opens on the Forest of Burzee, a far-removed neck of the woods apparently at the Southernmost point of the Land of Oz. There lives Necile, a wood nymph blessed/cursed with utmost beauty but also a longing and melancholy that makes her feel incomplete. When Ak, the Master Woodsman, arrives one day and tells them about the suffering he's seen – especially in children – throughout the world of man, Necile takes it to heart. When she senses a baby that's been left at the edge of the woods and will soon freeze to death, she makes her run.
"Swiftly her lithe form darted through the forest paths until she reached the edge of mighty Burzee, when she paused to gaze curiously about her...While the nymph gazed, the infant opened its eyes, smiled upon her and stretched out two dimpled arms."
Despite numerous laws against it, Necile brings the baby home to be raised by immortals. There, Neclaus ("Necile's little one"), or Claus for short, grows into a proper woodsman, dashing yet sensitive and wholly of the soil. Think Clark Kent but able to build a house without hurting a single flower.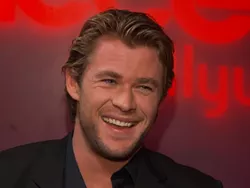 "...sitting familiarly in the circle of lovely immortals, a broad-shouldered, stalwart youth, who, when erect, stood fully as high as the shoulder of the Master himself."
A real Chris Hemsworth type, basically.
In one of the book's most poignant storylines, Claus notices one day that Necile no longer looks like his mother, but more like his sister. Eventually, she'll be like a daughter. He'll keep aging – which pays off big-time near the end – just like every other mortal. He bids a sad goodbye to the forest, and to Necile, and sets out to see the world, experience human pain and suffering and try to make it better.
His journey leads him to set up shop in the Laughing Valley of Hohaho, where the protection of the forest provides for him. There, he whittles figures based on his cat that he soon learns brings enormous joy to kids. Eventually, that becomes his thing and his cabin becomes a makeshift workshop where fairies and nymphs and Knooks try to fulfill the huge demand for his creations.
While the book sags in the middle (it's only 84 pages if that tells you anything about my attention span), Baum doesn't shy away from pressing questions of Claus' mortality, the burgeoning industrial complex and population boom that seems to shut "Saint" Claus out more and more every year or the tricky business of weighing naughty against nice, or especially, haves and have-nots. (The first time he ever returns to his mother, it's to ask her whether he should make toys for rich kids. The answer's a reluctant 'yes,' since rich kids are just as susceptible to abuse as the poor, which might be the most depressing Christmas explanation ever given. Occupy Burzee!!)
Of course, it's still a children's book, so there are wondrously simple and clever traditions – flying reindeer, chimneys, etc – weaved into the narrative, and the exasperated yet unendingly optimistic Claus we come to know by the end is both hilarious and tender.
"Years ago, when I first began making toys," laments Santa, "children were even more neglected by their parents than they are now; so I have learned to pay no attention to thoughtless or selfish parents, but to consider only the longings of childhood."
Broody! Seriously, read this aloud to your kids this year and let's get this Baum train rolling again, OK? Put the elf on the shelf to shame by cracking open (or, I suppose, finger-swiping) some actual Christmas magic. And somebody call Hemsworth's people, will ya?