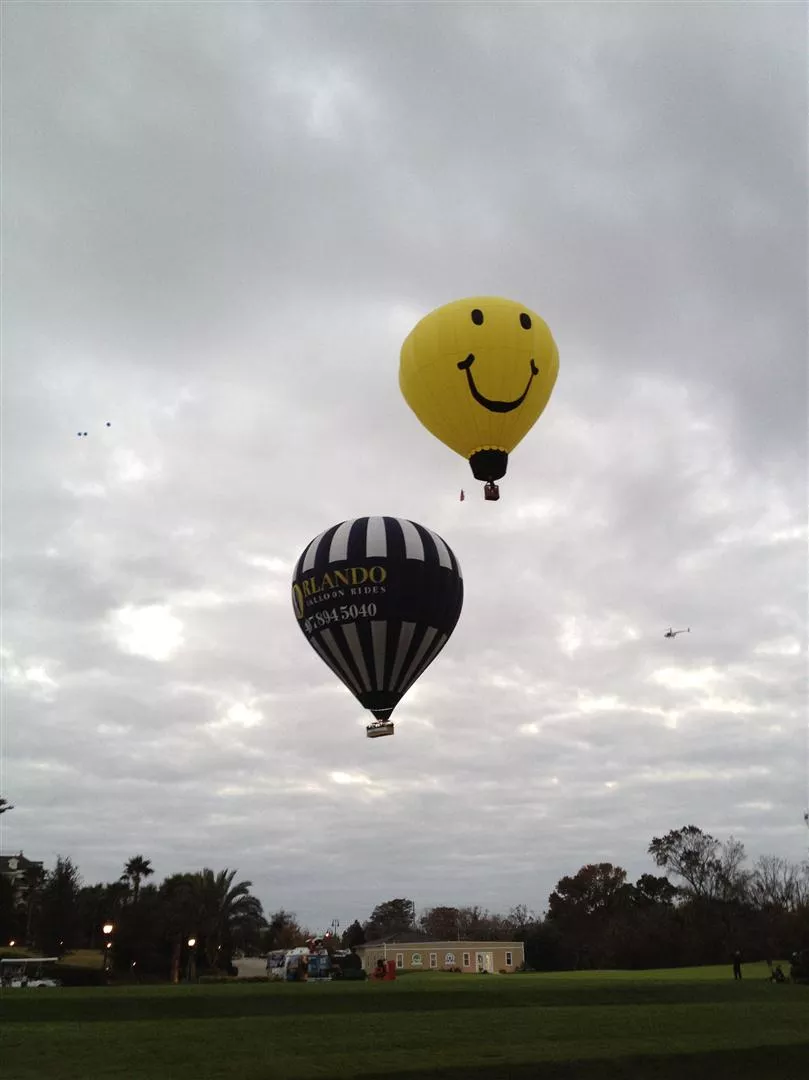 Orlando Balloon Rides shows off their new hot-air ride, the largest on the continent.
There are few things in this world I'll wake up before 5 a.m. for. But for a once-in-a-lifetime opportunity to witness a historic first, while simultaneously crossing an item off my bucket list? Brew the coffee and sign me up!
Last Thursday (12/15/11) I found myself a guest of Orlando Balloon Rides, standing on the golf fairway of Kissimmee's Reunion Resort. It was a few minutes before dawn, and I was watching the impressive sight of five giant hot-air balloons inflating simultaneously. The largest one was the one whose inaugural flight we were there to observe: at 11 stories tall and 425k cubic feet in volume, this 24-passenger "Ultramagic" balloon is the largest in North America, and represents a $180,000 investment for Orlando Balloon Rides.
Soon we were in the air, gliding silently (except for occasional ear-splitting blasts from our balloons hot-air furnace) as we followed the debuting craft (which was filled with contest members and military veterans) in our own, slightly smaller 16-passenger press balloon. With perfectly clear skies, gorgeous views of the swamps south of Disney, and feather-touch two-bounce landing, it was an ideal introduction to ballooning.
At about $175 per person (including continental breakfast and a champagne toast) for an hour-plus adventure, I can't afford a non-complimentary return trip any time soon. But for a unique celebration of a special occasion, I can imagine few better ways to get above it all.
Here's a high-def video of highlights from the morning's event, so you can relive my aerial voyage vicariously:
[youtube C4clcoMzKGk]