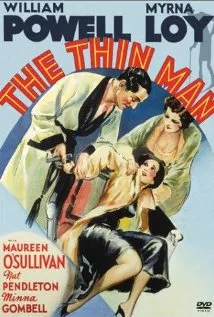 (The Thin Man marathon is on Turner Classic Movies tonight starting at 8pm).
"The next person who says Merry Christmas to me, I'll kill them," says a recovering Nora Charles as the well-wisher leaves the room. I know how she feels, but I could never say it with half as much charm as the sparkling Myrna Loy does in this psuedo-Christmas detective film from W. S. Van Dyke, based on the Dashiel Hammet novel.
So what's Nora recovering from anyway? An afternoon bender. My kind of girl.
Nora and her husband Nick (William Powell), are a couple of California socialites back in New York for a holiday vacation with their dog Asta. The dashing, also-charming Nick used to be a detective in the Big Apple before Nora inherited a few companies from her father which brought them to California to stake their claim. By accident, and against his wishes, he is drawn out of retirement to figure out where the missing Cylde Wynant has gone.
Nick wants nothing to do with the case, however. He's retired from dick work, and made himself a respectable man out in California, where he runs several of the businesses that Nora's father left them. Also it would interfere with his drinking. Nora tries to goad him into it because she wants to see her man in action, but he is steadfast until the case becomes too interesting and dangerous to pass it up.
The plot is really secondary to these wonderful characters, though. Nick and Nora light up the screen with their quick and easy chemistry. Powell and Loy together are about as perfect an onscreen couple as you can get, and Nick and Nora Charles were the roles of a lifetime for both, exquisitely tailored to the both of them like a glove. Loy is witty and beautiful as Nora, the kind of girl girl with hair on her chest who can take a right hook just as comfortably as she can sit around in a mink coat with a highball. The couple play coy with to the new level, quipping and sniping, flirting and pretending they don't care in the same breath. They do care, of course, but it's more satisfying in some cases to learn how loved you are by how much you can get away with and there seems to be nothing that these two can't get away with when it comes to each other.
Powell and Loy played these characters for over a decade through five films, and a long with their other pairings, such as Manhattan Melodrama, give a visual testament to the fact that they were one of classic Hollywood's perfect couples, though their named surprisingly didn't stay in the spotlight in the same way that Bogey and Bacall or Gable and Lombar's names did. Maybe because they were never an actual couple. But maybe we should count our blessings for that, since Bogey and Bacall's real life relationship limited them to only four films together, while Powell and Loy finally made fourteen.
[youtube nSNJ-8ouQEM]