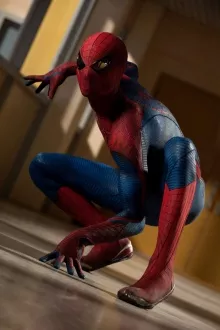 So, we've been away from the Roundup for two weeks now and I've collected a whopping two stories over that time. Two. Honestly. Nothing about my scouting routine changed, there is just nothing going on lately except nonsense year end lists (except our year end list, which was awesome, of course), which are swiftly morphing into Oscar and guild award chance stories and "what to watch for in 2012 pieces" (again, ours are way more awesome than anyone else's [Part 1, Part 2], and we have a third coming up in the paper soon about foreign films).
I guess now is a fair time to remind people to go through their Netflix queues and pull all of those Sony and Disney movies up to the top, because they will all be gone (alone with the dreadful Starz Play) at the end of February. Honestly, any company that would take a beautiful film like In the Mood for Love and show it only in pan-and-scan in SD doesn't deserve to be in our lives anyway.
Anyway, on to the links.
-First...how not to write a headline 101: "David O. Russell Fingered in Quasi-Incestuous, Transsexual Groping Claim". I can't even... (The Wrap)
-Speaking of guild awards, the WGA Nominees were announced on Thursday. My money is on Heywood and his magical vehicular/horse drawn time machine, and The Descendents for adapted. But honestly, I'm kind of okay with any of them winning. As for TV, I honestly haven't seen any of those shows except the pilot of Homeland, which I only watched because of the Angela Chase theory, and Curb Your Enthusiasm, which had possibly it's best season this year. Which is really saying alot. (Deadline)
-Here are a bunch of pictures from The Amazing Spider-man that look, well, amazing. Seriously, it actually looks like SPIDER-MAN and is making me hate hate hate Sam Raimi for his utterly crap versions of Spider-man, especially that childhood rapist of a third movie. If the movie lives up to the pictures, I can even forgive the fact that Andrew Garfield is from Surrey and not Queens, which has been bothering me for a while. WEB SHOOTERS. WHAT. (IFC)
-From the things I can't believe I didn't know, or knew but dismissed, department: Melora Hardin (Jan on The Office) was the original Jennifer Parker in Back to the Future, but was let go when Eric Stolz was canned because she would have "towered over" the new guy. (Wired)
-In an apparent seppuku attempt, The Village Voice let go of head film critic J. Hoberman this week. Honestly, I stopped reading other critics when I started working here, so I haven't read him in a few years, but this is just silly and stupid. (Capital)
-IFC's Matt Singer has a great piece for aspiring critics, giving 10 pieces of advice from his notes from a J. Hoberman seminar. They're all good points. I could not agree more with the part about how synopses are the worst thing ever, both reading them and writing them. (IFC)
-Here are a few details about the two upcoming Terrence Malick films from Rooney Mara and Michael Sheen, and a bit of what was cut out of Tree of Life. (/Film)
-Screenwriter Ali Morgan on her two films out this winter, Shame and The Iron Lady. FYI: Shame opens at the Enzian on Jan 20th. (Empire Online)
-Read David Fincher's explanations for making each of his films. (First Showing)
-They also have a long form interview with Fincher wherein the use of OS X and Google are gushed over. It's fine, I guess, to see real people using a real computer, Googling and YouTubing and whatnot. But, unless things have changed significantly in the last 10 years, hackers aren't a Mac or a PC. They're a Unix (usually a weird Linux build). (First Showing)
-I can't be alone in thinking that an Evil Dead remake starring Lily Collins in the Ash-like role is a terrible idea, can I? (Vulture)
-Just stick this live action Akira nonsense on the shelf already, WB. (IFC)
-On behalf of all New Yorkers, I'd like to apologize for the minor annoyance that is Peter King (R NY-3), especially as he looks to investigate director Kathryn Bigelow and writer Mark Boal over the upcoming Kill Bin Laden. Really, I'm so very sorry. (NY Times)
-Are retro films like The Artist and Grindhouse more of a cult than a style? (The Guardian)
-What exactly was Haruki Murakami's involvement with Tran Anh Hung's adaptation of Norwegian Wood? (Wall St Journal)
Trailers, posters, etc:
-The first trailer for the Oscarcast. Please, God, make the show funnier than this. (YouTube)
-Greg Kinnear and Billy Crudup in the throwaway comedy thriller, Thin Ice. (Apple)
And finally, let's take one last ride with Amity Boat Tours:
[youtube zBSaUp2GLJ8]