This week's films are the Coen Brothers'
Burn After Reading
and  Ronald Neame's
Hopscotch
.
I've been thinking about this feature for a while (I went a little overboard and planned out the next six months in advance, actually), so I'm really excited to get the ball rolling on it. The basic premise is two films of a similar theme, one better known, one less well known.
Burn After Reading - The Coen Brothers (2008)
Being sandwiched in between No Country for Old Men and A Serious Man is not an easy thing to overcome, even when your creators are the Coen Brothers, even when you star George Clooney, Brad Pitt, Frances McDormand, Tilda Swinton and John Malkovich. Burn After Reading can be excused for having a chip on its shoulder.
Osborne Cox (Malkovich) is a career CIA man, a spy brought along during the tension of the cold war, but whose time and methods and drinking have become a problem. After being eased out of the Company, he decides to write his memoirs as revenge, but he ends up leaving important documents on a disc in his gym. There, they are found by Linda (McDormand) and Chad (Pitt), who try and shake him down for money so Linda can get the rest of the plastic surgeries she wants. Cox's wife, Katie (Swinton) is having an affair with another spy who Osborne hates, Harry (Clooney), whose wife Sandy (Elizabeth Marvel) is also having an affair while out on a children's book tour. And go!
As a comedy, it tends to flit back and forth between several modes: absurd, serious, dry, dour, and dark, all written very much in the Coen Brothers style, like Barton Fink or The Big Lebowski, where the vernacular is completely different for every character, which is kind of a big part of the point: it is a character piece first. Even though it has a tightly woven plot line, the plot is subterfuge for these characters to interact with each other, often to an hilarious end.
You can rent this at pretty much any video rental outlet.
[youtube N99kv6ojn48]
Hopscotch - Ronald Neame (1980)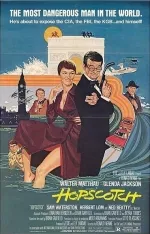 Hopscotch, meanwhile, stars Walter Mathau as Miles Kendig, another cold war era spy who is in trouble with the higher ups at the CIA when he lets a Russian spy, his old buddy Yaskov (Herbert Lom), go scott free during a mission in East Berlin. Just like Osborne Cox, Kendig begins his memoirs as revenge when he is eased out (reassigned from active duty to the file room), but instead of keeping it under wraps until it's done, he makes a game of it with the agency, mailing in one chapter at a time.
As each chapter is finished, he mails a copy out to all of the spy agencies around the world, as the secrets inside concern them too, but he is adept at keeping one step ahead of them as they try and track him down, hence the title of the film and Kendig's memoir: Hopscotch.
It's very much in the goofy-but-serious style that would be more common in sixties than the eighties. It has the feel of a European film, but the sensibilities of a purely American film. It is as much about the jokes as it is about the characters. My thought while watching it was that if Francois Truffaut ever made a real comedy, it would have been exactly like this.
Matthau drives the film forward at every point and is as generally charming as ever, though he basically plays Walter Matthau the spy, who later retired to Wabasha, Minnesota to bicker with Jack Lemmon over who could catch the illusive catfish. Sam Waterston, Glenda Jackson and Ned Beatty also star, but Matthau is everything to this picture and he delivers with efficiency, especially when a few of the gags are let downs.
Hopscotch is streaming on Netflix Instant.
[youtube naQO14SnbUc]