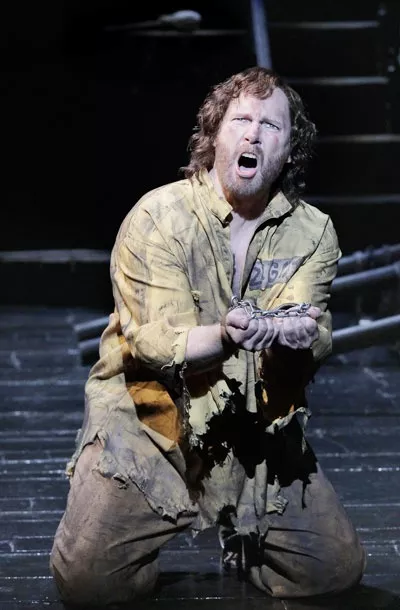 J. Mark McVey as Jean Valjean in Les Miserables
Most Broadway musicals are comforting confirmers of conventional cultural values, aimed at a older, affluent audience. But once each decade, a show emerges that is embraced by a younger generation, because it speaks directly to the issues of being underage, under privileged, and under pressure to submit to the dominant hierarchy. In the 1950s and '60s, it was West Side Story and Hair; in the 1990's a 00s, RENT and Spring Awakening. For my demographic cohort who came of age in the late 1980's, the play to obsess over was Les Miserables.
It might seem odd for a 3-plus hour adaptation of Victor Hugo's epic melodrama about an obscure 1832 Parisian to inspire adulation in adolescents. But the story's themes of persecution, protest, and progressive idealism – and the memorable if repetitive mock-opera score – spoke strongly to my teenage self. Les Miz was the first serious show (i.e. not Cats) that I saw multiple times in New York, though by the time its lackluster last tour stumbled through the Bob Carr half a decade ago, my love affair had cooled.
Now we're over a quarter century beyond the play's blockbuster debut. Can Les Miz still evoke emotion today the way it did back then? What changes need to be made to keep it relevant for modern theatergoers? The answer, apparently, in the eye of producer Cameron Mackintosh, is "almost everything," and after enjoying last night's Orlando opening of Les Miz's "25th Anniversary Production," I have to say I wholeheartedly agree.
Before you panic, be assured that the plot and characters remain unchanged – no "Solo shot first" or "Porgy just limps a little" revisionism was required for this time-tested story. New arrangements appropriate for a slimmer orchestra pull back the strings and pump up the percussion; and careful listeners will catch minor lyrical tweaks (an alternate verse in "Lovely Ladies," the long-lost "Meeting at the Well" restored) and trims ("Master of the House" and "Little People" lose a few lines). But unless you've memorized every note of the Complete Symphonic cast album (what, I'm the only one?) you'd be hard-pressed to tell this was a radical revamping with your eyes closed.
Open them, however, and you'll see that most of the visual iconography developed by original directors Trevor Nunn and John Caird has been jetisoned, starting with the giant turntable the cast endlessly trod. Also gone is scenic designer John Napier's towering automated barricades; in their place, set designer Matt Kinley provides a multi-story proscenium that slides onstage to form city slums, and animated projected backdrops based on Hugo's own paintings. Original costume designer Andreane Neofitou's revisited her richly ruined costumes, making them subtly seem less period-specific (you can see girls dressed like Eponine hanging out at Stardust). And the only thing Paule Constable carries over from David Hersey's lighting is the gimmick of hitting dead characters with a white spotlight.
Likewise, directors Laurence Connor and James Powell have utterly overhauled staging that was considered innovative for its time, injecting fresh energy and intensity in the storytelling. From the arresting prison-ship prologue to Javert's spectacular denouement, almost every moment has been re-imagined with an eye to clarifying characters and illuminating action. Speaking of action, the show's physicality has been amped up, with every opportunity for fisticuffs explored. That muscularity goes hand in hand with an increased pace in general. Occasionally, emotional moments are shortchanged in the stampede (especially Garvoche's death, now off-stage), but the overall effect is a more visceral, passionate production.
Of course, all the clever staging in the world won't save a show without a good cast; thankfully this is the best troupe to tour through the Bob Carr in years. Unlike earlier shows this season, there isn't a single member in this cast who makes you wonder "how did you get hired?" I first saw J. Mark McVey play Jean Valjean on Broadway in the early 1990's, and he's aged into the role very nicely. I liked how he brings a prickishness to the ex-con that Colm Wilkinson did, making his spiritual evolution more meaningful. He's well-matched vocally by Andrew Varela (another Broadway vet) as the obsessive Inspector Javert. And as golden-hearted whore Fantine, Betsy Morgan hits all the right notes – emotionally and musically – without the ear-shredding vibrato (I'm looking at you, Patti LuPone). Richard Vida and Shawna M. Hamic are riotously revolting as required as the Thenardiers; Chasten Harmon plays their doomed daughter Eponine (an unexpected color-blind casting choice) and interprets her signature song "On My Own" with exceptional urgency and nuance. Only the young lovers Cosette (Jenny Latimer) and Marius (Max Quinlan) are a bit bland, but that's been the case in every version I've seen, so I can't blame the actors. A bonus point for all the performances – no B.S. Britishisms; I've never understood why French people would speak with English accents? And another point for everyone enunciating well enough to understand every word, proving the Bob Carr's acoustical bad rap is somewhat unfair.
In the end, this production of Les Miz made me do something no other has in over a decade: cry like a kid. If I had seen this new version at the age I was when I saw the original, I'd probably have fallen for it just as hard. That's the highest recommendation I can give.
Bob Carr Performing Arts Centre January 17-22, 2012
Tickets start at $38
www.OrlandoBroadway.com
1-800-982-2787.
Group orders of 15 or more may be placed by calling (407) 704-6116.