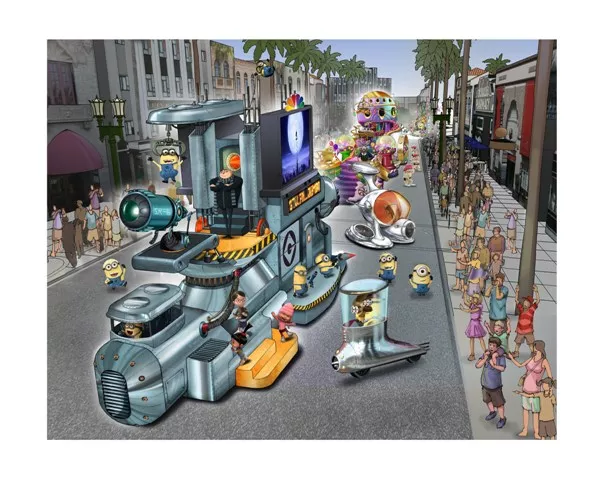 Concept art for Universal's Superstar Parade, debuting in Spring 2012
This morning, Universal Orlando held a webcast for selected media, setting the fanboy twitterverse on fire with discussion of the resort's plans for 2012, dubbed their "Year To Be Here." While none of the upcoming additions announced today by Universal's Senior V.P. Jim Timon and Universal Creative President Mark Woodbury will come as a shock to attraction industry watchers (or readers of my column), the webcast was a slick way to nail down some specifics and glimpse some concept art.
The upgrades and expansions arriving at Universal this year are:
Blue Man Group is currently closed, and will return in February with a new show. The structure will be similar to their original avant-guarde performances, but with new props (like oversized iPads) that "play off the world's obsession with cutting edge technologies." There is also a new finale that involves pelting the audience with giant inflatable balls. These changes appear identical to ones implemented recently in other BMG venues around the country.
Hollywood Drive-In Mini-Golf opens at CityWalk in February, though hours and pricing are still unannounced. The 36-hole courses' 50s B-movie theming is shaping up nicely, especially the giant alien worm and towering haunted house.
Spider-Man at Islands of Adventure will reopen in March with a new ride film, reanimated at 4K ultra-hidef resolution with improved detail, updated character designs, and a hidden cameo from comic creator Stan Lee. Scenery, lighting, and special effects will also be improved, and guests will somehow "spend more time" in certain scenes, implying a significant reprogramming of the ride movement. Most of the new digital projectors are already installed and running (using upconverted original ride footage) and their sharpness and stability is remarkable.
Universal's Superstar Parade debuts in the Spring as the park's first Disney-style daytime character parade. New floats based on Spongebob, Dora the Explorer, Despicable Me, and Hop will process through Universal Studios Florida, pausing for choreographed "show stop" street performances. Each group of characters will also giver pre-parade performances each day around the park.
Universal's Cinematic Spectacular – 100 Years of Movie Memories also debuts in the Spring as Universal's answer to Disneyland's World of Color. This "last kiss goodnight" will cap the day with water fountains, pyrotechnics, and film clips from Universal Pictures' illustrious catalog projected on waterfall screens arrayed around the lagoon. The show will be narrated by Morgan Freeman, and the water effects are from Aquatique International, who built the fountains at Tampa's Hard Rock Casino. Look for the show to run nightly through the summer, and select nights the rest of the year.
Despicable Me: Minion Mayhem will open this Summer, replacing the Jimmy Neutron simulator. Guests will enter Gru's house (voiced by film star Steve Carell), transformed into a Minion, and forced to participate in a "dance party" (shades of Neutron's chicken dance finale). Sample CGI footage indicates the new attraction will be very similar in structure to the old ride, only in 3-D. Nickelodeon fans fret not; Spongebob and pals will have a new merchandise shop/photo op where you can meet them.
In addition, nearby Wet & Wild will open a new interactive playground for the kids this Summer with junior slides and soakers. Sorry, no new word on the former Jaws ride, Harry Potter expansion, or any other rumored projects.
[Updated 1/25/12 @ 11:43 with missing info on Spider-Man]