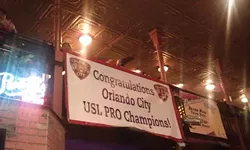 Last night, Church Street's Mojo Cajun Bar & Grill hosted Orlando City Soccer Club's Supporters Summit. A horde of soccer fans, ranging from 20-somethings in red Orlando City T-shirts and scarves to men in tailored sports coats to a family of four carrying an infant, crowded Mojo's bar and upstairs balcony areas for the 2012 season kickoff event.
A highlight reel launched the evening, dramatically recapping high-action game scenes, slow-motion goal shots and freeze-frame photos of trophies from the Lions' inaugural (and championship-winning) season last year. A group of male fans along the balcony began
chanting, "Ole, ole, ole, ole" loudly as Orlando City's front office staff took the stage, including club president and team owner Phil Rawlins and head coach Adrian Heath.
Phil Rawlins shared with the crowd quick updates on the off-season, including Orlando City's new joint venture with the Florida Soccer Alliance youth programs, the official gameday after-party location at Mojo Cajun Bar & Grill and new player signings of midfielders Anthony Pulis, James O'Connor and John Rooney (younger brother of English soccer great Wayne Rooney).
Orlando City Lions begin their second season in April, riding the heels of an impressive opening season in 2011. Last year, the Lions won the United Soccer League Pro championship and hosted the league's largest crowd for a single game ever recorded (11,220 people attended the USL Pro Championship game against the Harrisburg City Islanders on September 3, 2011) at the Florida Citrus Bowl. Rawlins has high hopes for this season. "We have 80 percent of our roster returning this year," he explained.
The floor opened to fan questions, with some asking about the construction of a soccer-specific stadium and a potential rivalry game against Tampa Bay United, but most focused on the drive to bring a Major League Soccer team to Orlando. Rawlins mentioned recent off-season discussions with MLS commissioner Don Garber and announced upcoming meetings with city and county mayors Buddy Dyer and Teresa Jacobs in March. "Orlando is the most visited city in the world, it's an international city," Rawlins said. "Soccer is the world game. It fits with this city."
Rawlins pressed for attendance at the upcoming Disney Pro Soccer Classic (Feb. 24-March 3), a tournament featuring eight professional soccer teams, including Orlando City, at Disney's ESPN Wide World of Sports. He described participation and fan support of the event as an integral factor toward bringing MLS soccer to Orlando.
The evening then led to the unveiling of the club's new purple-and-red uniforms (known as the "kit"), each modeled by two players on stage followed by a showering of team-colored streamers. Forward Matt Luzunaris, a native of Boca Raton, Fla., and former University of Central Florida player, wore the new home-game kit. "I just signed with the team, but I've been playing professional soccer for five years," Luzunaris said. "Orlando's a great place for soccer. We have a great club, and with only the Orlando Magic here, professional soccer is a great addition for fans."
Orlando City Soccer club starts its preseason Feb. 18 against the Philadelphia Union, and regular season begins mid-April. Season tickets are available now through the club's website, and single game tickets start at $15.
Looking ahead for this season, Luzunaris considers the Lions' most anticipated opponent to be the championship-quality rematch against the Harrisburg City Islanders (7:30 p.m. Friday, June 22). And like most sports players with superstitious pre-game rituals, Luzunaris plans to lace up his cleats from left foot to right and take the field one step at a time.