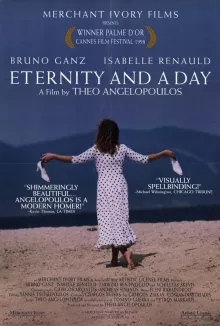 There were two really awful stories in the news this week and neither one of them had anything to do with Extremely Loud and Incredibly Close getting a Best Picture nomination.
1) Bingham Ray died.
What the fuck?
Bingham Ray's name might not be as familiar as Angelopoulos' name, but what he helped bring to the screen is. He was one of the key figures in the independent film movement in the 80s and 90s as the co-founder of October Films, which is better known today as Focus Features (with a stop along the way as USA Films), and was president of United Artists in the early 2000s (when they made Bowling for Columbine, Hotel Rwanda and Pieces of April to name a few). He's all over the books Down and Dirty Pictures by Peter Biskind  (60 mentions in the index, and two pictures) and John Pierson's Spike, Mike, Slackers and Dykes, both of which are great reads.
Theo Angelopoulos was a world renowned Greek filmmaker, winner of the Palme d'Or for the film Eternity and a Day, which you can find streaming on Netflix Instant currently, along with his films The Weeping Meadow and Landscape in the Mist. He was in the middle of filming his latest film, The Other Sea, when he was struck in a traffic accident. It's kind of a hard thing to wrap your head around, honestly.
-Just a quick FYI before we get to the links: Aki Kaurismaki's Le Havre is on Hulu+ and iTunes as of this week. It's a great film (my 11th overall for 2012), check it out.
-Two Oscar nominated animated short films, Sunday and Wild Life, are available to watch online (HuffPo)
-This short Q&A with Anthony Hopkins is a great read. (The Guardian)
-Kate Winslet and Catherine Keener officially joined Charlie Kaufman's Frank or Francis. (Vulture)
-It's a shame they didn't get Kim Dotcom on Cribs before he got busted because DAMN. I want a hedge maze. (Daily Mail)
-Cheating at video games is a slippery slope to worldwide piracy domination. Clearly. (Kotaku)
-Haywire star and MMA fighter Gina Carano's "favorite movies" list sounds like a list of movies she thought of off of the top of her head. A friend who is into MMA says she is notoriously shy and nervous in interviews and only comfortable when punching people in the ribs though, so that makes sense. (Rotten Tomatoes)
-Claire Danes and Jason Segel are Harvard's Hasty Pudding Man and Woman of the Year. (Hasty Pudding Theatricals)
-Season 4 of American Ninja Warrior apparently isn't sending the finalists to compete in Sasuke 28 (Sasuke 27 ran in Japan in October, but has not aired in North America yet), but building its own course here. Lame, NBC. Lame. The winners competing in the real competition is the most interesting thing about the show. Imagine that. NBC making a shitty decision in its programming. Yes, I'm a nerd. Yes, I call it Sasuke instead of Ninja Warrior. Shut up. (Deadline)
Sundance:
-The festival is over now, with the dramatic awards going to Beasts of the Southern Wild (Jury) and The Surrogate (Audience). John Hawkes seems to be the biggest winner of the festival, which appears to be incredibly underwhelming this year. (Reuters)
-Get ready for Celeste and Jesse Forever, which wasn't quite a Sundance breakout (there really wasn't one this year), but seems like it'll be the next mid-level Apatow-equse comedy, starring Andy Samberg and Rashida Jones (and Emma Roberts and Elijah Wood). (Deadline)
-Booing and heckling a movie is usually more of a Cannes thing, but it happened this week to Compliance at Sundance. Here is a Q&A with the director about it. (Vulture)
-I'll be really bummed if Julie Delpy is really done with acting, as she says she is. 2 Days in NY looks good at least. (Deadline)
Trailers, Posters, etc:
-Willem Defoe and Sam Neil in The Hunter. (Apple)
-Tim and Eric's Billion Dollar Movie, which is out on iTunes this week. (Apple)
Finally, Pee Wee Herman is going to be a guest judge on Top Chef Texas this week, as was inevitable:
[youtube QltlctqfY4E]