This week's film's are Angela Christlieb and Stephen Kijak's 
Cinemania
and Bennett Miller's
The Cruise
.
If you've ever been to New York City, even if you never ventured out into the City beyond Times Sq, you met some of the wonderful weirdos and oddballs that the City has both given birth to and accepted in as strays. They are often times the curmudgeonly beautiful salt of the city, but are now quickly being priced out of existence, just like anyone without a six figure job or trust fund is these days. But cameras have have caught up with some of the more lovable ones over the years, especially in these two films.
Cinemania - Angela Christlieb and Stephen Kijak (2002)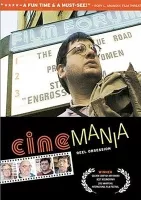 It's hard to say that you've really been a New York cinephile if you've never run across any of the Cinemania gang at screenings. I've come across Jack and Roberta over the years (score!), at festivals or afternoon screenings at the Film Forum. But as much as I love film, I can't fathom how they do what they do. Three films a day, at least, all in the theaters of New York's sprawling network of art and revival houses.
I can do three films a day standing on my head, but not every day of my life. It's a serious commitment of both time, energy, money and sanity, dealing with movie times, subway schedules, walking distances, weather and somehow fitting meals and bathroom breaks in. The bathroom breaks are easy for Jack, because he subsists on a diet designed to constipate him so he doesn't miss anything.
It's a sometimes sad, always interesting story that measures the difference between obsession and compulsion. Thousands of times a year, its this group of familiar misfits that have their eyes trained at the screen, and now, finally, the screen turns it around, training its eyes on them to endearing results.
[youtube gOr0NShwEkc]
The Cruise - Bennett Miller (1998)
Before Bennett Miller was known for Capote or Moneyball, he documented the life of Timothy "Speed" Levitch, the somewhat oddball writer-tour guide who has probably forgotten more about the Island of Manhattan than most people ever learned. To Weezer fans he might be recognized from this live version of Undone, and to Richard Linklatter fans, he might be familiar from his cameo in Waking Life. But The Cruise documents Speed's life in the late 90s and finds him losing his footing in the once-familiar world. His mission in life is the cruise, a sort-of philosophy based around the freedom of the mind and body. He finds all around him roadblocks being erected in his path, physically and spiritually. They are the anti-cruise, which must be fought against at all times.
It's a quirky piece, but it's short running time keeps it from ever running out its welcome. Speed is a terribly interesting guy to watch, and though he occasionally seems to just be pulling random words out of his ass and putting them into sentence form, he has his moments. He is smart and articulate on his bus tours, giving out crazy facts about great writers and politicians and events that shaped the city, especially the anti-cruise that is the city grid layout, but the film's greatest moment comes on the Brooklyn Bridge when emotions spill out of him and he begins a tirade about the people who've bullied him on his way through life. In The Cruise, Miller has captured a great snapshot in time of a City that no longer exists except in memory and documentary.
The Cruise is streaming on Netflix Instant.
[youtube NhooKqTJPew]