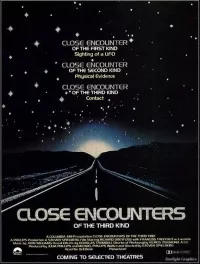 Seriously, tonight is one of those epics  nights on TCM as they venture on their Bundy vacation to... beautiful Wyoming!
Huh? Wyoming?
But seriously, it's great, starting at 6:30 with the Henry Fonda western, The Ox Bow Incident, then at 8 for Steven Speilberg's crazy-genuis-reason-for-living, Close Encounters of the Third Kind.
After that, it's Kirk Douglas in Howard Hawks' The Big Sky and Jane Fonda and Lee Marvin in Cat Ballou.
So, you can go out and get laid tomorrow night instead (though, admittedly, probably not if you mention staying in to watch Close Encounters).
I know what happened to the VHS copy of Close Encounters I had as a kid and lost. TCM found it and they're using it for broadcast tonight. Yipes. Looks so awful. What a shame, especially since the Bluray looks so pretty (and is only $13.99 on Amazon).