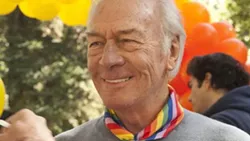 a.k.a. The Old Dead Gay Guy Memorial award. The one giant yawn of this year's ceremony (not counting Best Documentary - Short Subject; I mean, honestly!) is easily Best Supporting Actor, a category that looked like a nail-biter only a couple months ago. Back then, it looked like a horse race – Luck-style, with snapped knees and the like – between Christopher Plummer (Beginners), the storied dignitary who started out in the theater in the fucking 1940s, and Albert Einstein Brooks, who is Albert Einstein Brooks. Plummer and Brooks were so well-matched that they required a tiebreaker in the Florida Film Critics Circle awards. Other appetizing possibilities dotted the landscape, as well: Patton Oswalt for Young Adult could've been a way to draw in younger viewers, as could Seth Rogen for 50/50 or Alan Rickman for Harry Potter and the Deathly Hallows Part 2. (The culmination of Rickman's crestfallen, is-he-evil-or-not plotline was, for me, certainly worthy, as was Rogen's comic relief. Oswalt, for the record, got my FFCC nom.) But of these actors, only Plummer got the nod, and he will also get the trophy. Let's see who the Academy sent in to lose to him.
Kenneth Branagh: My Week With Marilyn One of the great Shakespearean actors of our day playing the great Shakespearean actor of yesterday (Sir Laurence Olivier) has had Oscar written all over it since it was cast, but I had the same issue with the performance as I did with the broad, one-note historical personifications in Midnight in Paris: lack of complexity. Branagh can deliver a monologue, no doubt, but he seemed to know he was stuck in a stinker.
Jonah Hill: Moneyball A great part, a restrained performance and chemistry for miles. His win is the recognition.
Nick Nolte: Warrior A genuine surprise nomination, considering too few people saw Warrior (which I loved to death), but Nolte's monstrous father/coach struggling with sobriety was the weak spot for me, ironically. He did his job, but the part itself was a bundle of clichés.
Max von Sydow: Extremely Loud & Incredibly Close I'm mentally incapable of uttering a negative word about Antonius Block, but I will say that this is a downright shitty movie. No flowery prose needed; it's straight-up shitty. The winner: Christopher Plummer