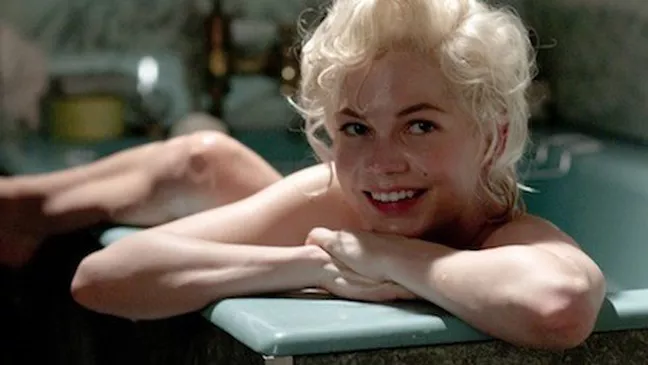 Michelle Williams as Marilyn Monroe
So whatever happened to that year-long national mood regarding the Year of the Woman, and how this year is different because women are taking it upon themselves to write, direct and produce good, meaty, emotionally complex roles that showcase the true feminine concerns of right now?
Oscar happened.
It's true: This year saw juicier roles from actresses, young and old, who all seemed so full of vibrant ideas that, for me at least, every other week brought a brand new jaw-dropping surprise. Watch how Elizabeth Olson says, "I am a teacher and a leader," or Saoirse Ronan's "adapt or die" luminosity or how Shailene Woodley made the word 'twat' seem as effortlessly venomous as it would to a modern teenage hormone bomb. That same stubborn insistence on ethical freedom pervades in Circumstance, a stunner written and directed by a woman for women, and even amidst flying cookie debris in Bridesmaids. The loud-and-clear message being sent was that women, for better or worse, are women, not men. More than any year I can remember, the movies taught me, week in and week out, new variations on a score I thought I knew. We're all human, sure. But women are women, and all the endless complexities that comes with.
[youtube zEtIijhTKyA&feature=relmfu]
Then, mirroring the current Republican presidential crop perfectly, the patriarchal guard came marching in. Why is there even a "Best Actress" category, some scholars wondered? Then the nominations came in, and it was as if everything women in Hollywood told us this year went in one progressive ear and out the other conformist side.
Meryl Streep got one thanks to sweeping montages of Margaret Thatcher makin' it in a man's world, by golly, i.e. Oscar catnip. Glenn Close got one for playing a woman literally disguising herself as a man. There's also a maid, a Marilyn and a "more vulnerable, more androgynous" Lisbeth Salander. Surprise, surprise. "Let's pay homage to the women of our industry who tried so hard to be just like us." Huzzah.
I think not only should there be a Best Actress category, it should celebrate the female perspective as portrayed by women trying to be women, only better, or different, or accepted or understood or any of the many different arcs I saw bursting from the screen this year – women who can be savage or silly, monstrous or maternal, nihilistic or masochistic. Tell me again why it's a virtue to be more like us brosefs?
But that's not the world we live in – the world we live in has Rick Santorum leading in Michigan, so here are the Strong and Determined and Just As Good As Men nominees:
[youtube stBPnCQlsag]
Viola Davis (The Help)
[youtube kMD0XtQqfkg&feature=related]
Rooney Mara (The Girl With the Dragon Tattoo)
[youtube qhoBECqCjJ0]
[youtube ASu4f8VJOgI]
Michelle Williams (My Week With Marilyn)
[youtube _lc1Uv_QdbI]
The Decision: Michelle Williams