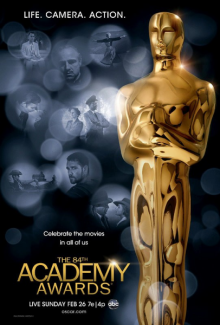 Can you hear it? That stomach gurgling sound emanating from the West Coast? Dun, dun, dun, it's Oscar Night! Now that the
Academy's dirty little secret
that it is an overwhelmingly old, white boys club (a secret so closely guarded that you only had to look at the Academy's website that's been up for like a decade), we can expect big changes. No, wait, they're
still
pointing a gun at everyone's heads to watch it and talk about it endlessly online. Damn you, Academy! I don't know why everyone takes these things so seriously. They're honestly not populist awards. I've ranted about this before, but the thing that they are most useful for is awareness. Even they would admit that. Harvey Weinstein doesn't spend millions of dollars a year for a statue. He spends it on the statue and the extra box office it brings in. Just look at how long The Artist was held over at the Enzian. Shame was supposed to open weeks earlier than it did, but Uggie and Co. were just doing too damn well to stop it.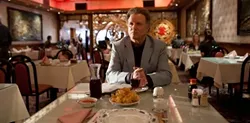 So, no, Albert Brooks didn't get nominated, but more people know about Drive and how great he was in it now anyway. It's not a travesty. If he had any gross points on the movie, he probably added some extra coin to his bank account as well. So, The Artist is very likely to win at least Best Picture, Best Actor, Best Score and possibly Best Director. And I think its triumph definitely makes up for all of the actors who became destitute alcolholics and died penniless in cheap flop houses off of Hollywood and Vine, like Marie Prevost, John Gilbert and even Buster Keaton. Damn. Fuck you, Old Hollywood. Anyway, as you'd expect, most of the news this week was about The Oscars, and I'm sure you're Oscar'd out already, like I am, so I skipped all of that crap for our collective sanity, but the resulting collection is fairly light.
News, links, etc:
-Netflix and The Weinstein Company are teaming up, s0 you can expect to find some high profile new films, like The Artist, to stream soon. (
PC Mag
) -Disney released the first stills for their forthcoming animated feature
Wreck-It-Ralph
, though they look more like concept drawings than stills. (
IMDb
) -Is it just me or does Minnie Driver look totally weird skinny? Not Jonah Hill weird, but still pretty weird. (
The Guardian
)
-I loved David Denby's piece on silent drama in this week's New Yorker, taking off from
The Artist
and digging back to the likes of Louise Brooks' angular flapper beauty, Emil Jannings' sad man and Douglas Fairbanks' manly chest and somewhat less manly pantaloons. (
The New Yorker
) -This is a great piece on my favorite Simpsons episode, Homer at the Bat. It even links to one of my favorite pieces on baseball, Bart Giamatti's
The Green Fields of the Mind
-- baseball
is
designed to break your heart. It even breaks Yankee fans' hearts -- yes, we have hearts. (
Deadspin
) -Here is an excerpt from Tales from Development Hell, an updated version of the book by David Hughes about the best films never made. This excerpt is about adapting Neil Gaiman's
Sandman, which is pretty well known, so I'd say it's not part of the update
. (
Pop Candy
) -Once upon a time Kevin Klein and Mike Myers were funny, but no longer. (
YouTube
) -Some behind the scenes photos from Pixar as they made
Brave
. (
Time
) -Dr Seuss and Studio Ghibli, indoctrinating American youth, stomping the hell all out of Lou Dobbs' lawn. (
The Guardian
)
Trailers, posters, etc:
-Pixar posted the new trailer for
Brave
this week, which should also be attached the John Carter prints. (
Apple
) Finally, forget Glee. Chris Cornell does a way better job with
I Will Always Love You.
[youtube vgFAq9Q8l8U]