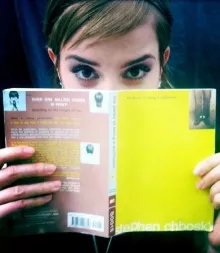 So, StarzPlay is officially purged from the files of Netflix now. In sheer terms of titles it's a major blow to Netflix's catalog (so much Disney and Columbia, over 800 titles apparently), but what did they (and we) really lose? Unless you stream Netflix to an old TV or have terrible eyesight, we've really lost nothing. StarzPlay was a quality blight to Netflix.
Everything they offered was SD, encoded under the "as many artifacts as possible" mode and routinely cropped to 4x3 for pan & scan. Honestly, I was tired of the momentary fits of excitement when I'd see something new in the recommendation lists (like Wong Kar Wai's In the Mood for Love) and then notice the little StarzPlay emblem embedded onto the icon.
Starz is a company that has barely embraced HD. Even their HD cable channels feature upscaled or poorly mastered versions of films, infected with blocky artifacts and tons of motion blur (ever notice that half of a person's face will move before the other half? Only on Starz!)
So, really, we've lost nothing except moderate annoyance.
News, links, etc:
-Buck Compton, who was a key member of Easy Company during WWII, and whose story was told in HBOs Band of Brothers, died this week. You already know he was a war hero -- notable as one of the many troops in Easy Company who was shot in the ass, the famous 1 bullet, 4 holes routine -- and that he convicted Sirhan Sirhan of murdering Bobby Kennedy. But did you know he also worked in the movies with Chaplin (albeit briefly with Chaplin)? (NY Times)
-Emma Watson is going to be in Sofia Coppola's new film, The Bling Ring. I'm unbearably excited about this news, you just can't tell because this is text and doesn't report giddy school girl squeaks properly. (Hollywood Reporter)
-The Lens Blog has some great early Kodak snapshots. (NY Times)
-PBS started an online film festival. (PopCandy)
-So, Ingmar Bergman was kind of a dick. (Criterion)
-Indians hates Pakistan so much that they rushed the set of Kathryn Bigelow's Bin Laden picture, Zero Dark Thirty, because Chandigarh is being used as a stand in for Lahore and that shit ain't cool. (Deadline)
-Star Wars and Close Encounters conceptual designer Ralph McQuarrie died this week. That sucks. (Empire)
-Speaking of Star Wars concepts, exactly how much would it cost to build the Death Star? (Centives)
-Those Hyundai commercials during the Oscars? Yes, Wes Anderson directed them. (Vulture)
-I'm adding this link on Monday, so you'll surely have seen them by Sunday, but here are the first pictures leaked from the Star Trek II set. (Den of Geek)
-So you guys are cool with a National Lampoon's Vacation remake, right? Because ready or not, here it comes. (Hollywood Reporter)
-Joel Kinnaman is the new Robocop. (IndieWire)
Trailers, posters, etc:
-Despicable Me 2, which is the most irritating trailer of recent memory. (Apple)
-A TV spot for Edgar Allen, with John Cusack... which is apparently about fandom going too far even in the 1800s. Still disappointed that Stallone never got Poe off the ground. (i09)
-The first poster for the On the Road adaptation is just awfully designed. (Hollywood Reporter)
-Gregory Crewdson: Brief Encounters, about the surreal photographer. (Vimeo)
-Here's a clip from Jiro Dreams of Sushi. (GrubStreet)
-Richard Linklatter's new "comedy", Bernie, with Jack Black and Shirley MaClaine. (Yahoo)
Finally, lousy Smarch weather!
[youtube 8RCs2RKiLlA]