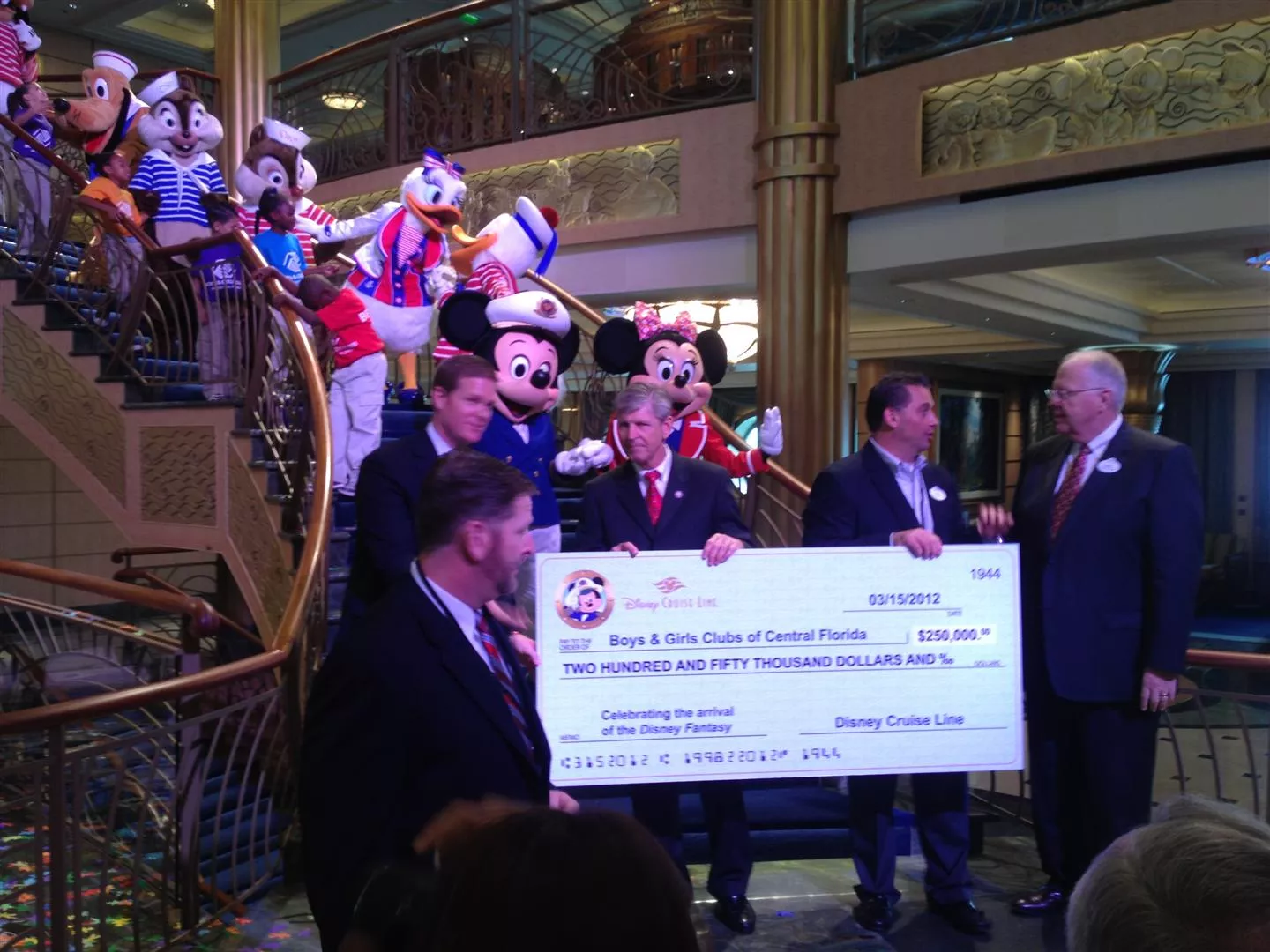 DCL president Karl Holz presents a $250,000 donation to Gary Cain, president of Boys and Girls Clubs of Central Florida (3/12/12)
This morning, I was invited to Port Canaveral to witness the inauguration ceremony for the Fantasy, Disney Cruise Line's newest and most luxurious vessel. The ceremony, featuring DCL President Karl Holz and Fantasy Captain Tom Forberg, was attended by dignitaries including U.S. Rep. Corrine Brown, Spacecoast-area elected officials, and (of course) Mickey Mouse.
Following the traditional exchange of plaques and keys, Disney capped the 30-minute presentation with a $250,000 donation to the Boys & Girls Clubs of Central Florida. Clubs president Gary Cain accepted the oversized check with a shower of confetti, and revealed that the money will be used to convert a former bank on Cocoa's Dixon Boulevard into a teen center and STEM (science, technology, engineering, and math) education facility.
After the ceremony, I spoke briefly with Holz about new aesthetics and amenities that distinguish the Fantasy from its sister ship the Dream, and the future of the cruise line. You can find video of that exclusive interview below (please pardon the camerawork).
If the Carnival cruise ship I sailed on last December was the Target of the seas, Disney's latest is like the Mall of Millenia Macy's, or maybe even Neiman Marcus. I thought the lobby looked nearly as nice as New York's tony Waldorf Astoria,  with classy Art Nouveau character embellishments and framed vintage animation artwork (some of which comes to life).
I was escorted ashore as the honorees were led to lunch at the "Animator's Palate" restaurant, where your place-mat scribblings are transformed into projected cartoons. Hopefully I'll be back aboard some time soon to bring you more details on Disney's newest Florida attraction, which will be sailing 7-day Caribbean itineraries starting March 31 (visit disneycruise.com for details).
In the meantime, check out these video highlights from this morning's ceremony and interview, followed by a sampling of photographs from the Fantasy:
[youtube 57muXQEqRZI]
[youtube jrDu0k1QHtc ]
[gallery link="file" columns="2" orderby="title"]
You can also find some additional coverage on my new personal blog, Artpinions & Attractionalysis.