It's been a while, eh?
It all started out downhill for
Bringing Out the Dead
, Martin Scorsese's film about an insomniac paramedic suffering through an existential crisis, starring Nicolas Cage, and written by Paul Schrader. It was Schrader's involvement that seemed to doom it from the very get go, leaving it wide open to the sort of
Taxi Driver
comparisons that no film could live up to. Cosmetically and thematically, the two seemed to be so similar that
Bringing Out the Dead
was thought to be a sequel, either in fact or in spirit. God has given the world a lot of lonely men, and the old, pre-Giuliani New York where Scorsese plied his trade had more than its quota. Paramedic Frank Pierce (Cage) doesn't seem to have always been one of God's lonely men, though. There was a time when he was a healer, a guide, almost a priest tending to and healing his flock on the overnight shifts in the West Side neighborhood he grew up in. He speaks of a time when saving a life was almost an out of body experience, one he got as much good out of as he life he pulled back from beyond. His hands had moved with speed and skill that didn't seem to derive from him. He was a conduit, designed to save lives. But he hasn't saved anyone in months by the time we meet him. By the look of his eyes, he hasn't slept in just as long.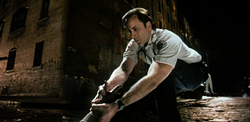 A paramedic in a slump is something entirely different than Mattingly in a slump, but this has become something more than a slump for Frank. He is almost resigned to the fact that the power that used to guide his hands has left him. Central to his problem is the specter of a young homeless girl named Rose who died under his care that is haunting him, taking over the face of everyone he sees. It's the guilt from her death is killing him, or, at the very least, killing the people he can no longer save. Frank's is a very Catholic guilt, an all out systemic blitz on his soul, or what he thinks of his soul, that has penetrated him so deeply that it's literally causing him to stop functioning. Catholics (especially lapsed Catholics) are in some manner essentially beasts of burden for their own guilt. It's a familiar theme, especially for Scorsese, who built his career on the Catholic misery in
Mean Streets
and
Raging Bull
. It's heavy, wracking weight is no less a burden because of how well essayed it is in art. Frank's guilt has become a parasite, eating from the inside out, blunting his senses for everything but the ability to spot another broken soul, like Mary (Patricia Arquette), who father is the first body and soul he has rejoined in months, but is ultimately a wasted effort. It's a cruel move to allow this man to save someone beyond actual saving, only prolonging his misery, not his life. Frank reads it in his eyes, and entertains Mary's father's misery in his head as if it were his own, which only further wracks him with guilt. But an essay on Catholic guilt sure doesn't sell any tickets.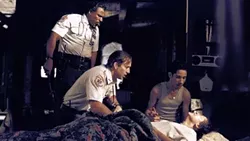 Along with the
Taxi Driver
comparisons, the film was never sold right. Selling a film right is everything, as we've just seen with
John Carter
, and
Dead
suffers from one of the worst, most ambiguous trailers you've ever seen, smooshing together every element from the film so that you don't know if it's a ghost story, a horror story, a drama or a comedy. While it's all of those things in the decompressed space of the film's running time without being confusing, the short trailer cannot handle such an overload of genres tugging us in this direction and that direction and the other. But external issues aside,
Bringing Out the Dead
suffered more acutely from a few of its own very real problems. Chief among them was the use of a needledrop score consisting of The Clash, Johnny Thunders, the Stones and UB40 laid over the wall-to-wall shag carpeting of
Van Morrison's T.B. Sheets
. Scorsese needed a helping hand with his soundtrack, someone to reign his excess in, but never found that helping hand. In stead of atmosphere, or aural cues, the film's soundtrack becomes a din, like someone playing the radio loudly in the next room while you're trying to watch this film.
Bringing Out the Dead
is a film that critics and Scorsese fans like a lot more than average moviegoers. I worked at Blockbuster when this came out and it was barely touched on the rental shelves, which I had trouble with, reconciling my love of the film with the general indifference, even hate. The division line isn't an artsy-fartsy line drawn in the sand, I don't think, I think it's just that you have to want this film. Directors have their cheerleaders, and Scorsese has more than most. But having to want a film is not the ideal way to go into it, even if it does allow you to overlook flaws more effectively, and this film has a seemingly equal ratio of flaw to brilliance. [youtube sfUwvmRmMtw]