So, it's the day after Amateur Night... I mean, St. Patrick's day. It's holiday I stopped celebrating somewhere in my early-20s because I'm not sure how I got home alive a few years in a row, catching rides home with people that were completely blitzed. Hall Road is just full of wonderful, winding blind turns with dozens and dozens of blind driveways. SXSW continues on, but the movie part of the festival is over and done with. There really wasn't a breakway hit, though I can't wait to see the feature winner,
Gimme the Loot (trailer linked at the bottom)
. The graffiti scene when I was growing up in the late-80s/early-90s in NYC was crazy and my art nerd friends and I engaged in a lot of hero worship for the best taggers around. We'd take the bus around Brooklyn after school just because we'd heard their was a new piece up somewhere and wanted to see it for ourselves, and it was always crazy when we'd see a piece by someone we (didn't really) know in the background of a movie or a TV show. Now I am an old man and would chase taggers away with a broom if I saw one. But still.
Deadline has the Audience Award winners here
. I'm not really sure what the make of the fact Matthew Lillard is stepping behind the camera, nor that his first film was called
Fat Kid Rules the World
. Wondercon is also this week and there should be news filtering through from the Amazing Spider-man and Looper panels. There are probably other panels but I don't care about them. It's actually more annoying than anything else that they're selling Looper at cons at this point when it's slated to come out in September. If anyone from Sony is reading, there are a few of us around these parts who could use one of
these Spider-man wanted posters
that are going around Wondercon.
News, links, etc:
-I wrote last week about the unheralded disaster that was Disney's marketing for Andrew Stanton's
John Carter
. It seems I unfairly put the blame on Disney's marketing division: Stanton himself was behind the marketing, according to the NY Times. This whole thing boggles the mind, especially since
Wall-E
had such a great trailer and marketing campaign. I really hope someone writes a book about this whole thing. I'll buy it the day it comes out. (
NY Times
) -The Hollywood Reporter has their own John Carter postmortem out this week too. The bit about Bob Iger hating the movie business makes my blood kind of boil. (
THR
)
-Don't know what the hell a reaping or a mockingjay is? Tracker jackers? Panem? No? Nothing? How about a primer on The Hunger Games before it opens this week then?  (
The Daily Beast
) -Speaking of... Orlando doesn't fare well in this map of Panem, as it is kind of under water. Global warming, damn you. You can't take Space Mountain
and
the Earful Tower! (Both of each, even, since LA is also under water). (
Vulture
) -Oh, Christ, it's another
Hunger Games
link: Jennifer Lawrence is worried that she runs weird with her "karate hands." I was going to leave this alone, but I know what she means because I ran the same way during little  league because I also thought it was aerodynamic. But in reality -- and in a bit of foreshadowing of my current place in life as a movie critic --
I ran like Jay Sherman on The Critic
. "That's not slow motion, Geraldo." (
Vulture
) -Of course Jurassic Park will come out in 3D next year. Post production 3D really looks like shit, I have to say. (
Deadline
) -Here's a long read from the Times' Sunday Magazine about Whit Stillman's comeback 12 years after The Last Days of Disco. (
NY Times
) -The next stop on Woody Allen's Eurorail pass seems to be Copenhagen, Denmark. So far from Midwood, Brooklyn. So far. (
Paste
) -If you've gone to look at something on your Mom's e-reader lately and she nervously snatched it away from you before you could turn it on, it's probably because she's reading her mommy porn, that bondage-S&M book,
Fifty Shades of Grey
. And hey, guess what? It will be a movie soon. Of course it will. I'm gonna get my Criswell hat out and predict the movie will flop at the box office and then become one of the biggest rental/streaming titles of the year. (
THR
)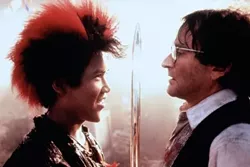 -Gimmick bullshit ahoy! Sony is going to adapt
Peter Pan
into a "reverse" story, where Peter is the villain kidnapper and Hook is the hero. Remember when they tried to do the same thing with Robin Hood and gradually changed it back into the normal Robin Hood story? BANG-A-RANG! (
Deadline
) -Robert Altman's first film was a football industrial. Words I never expected to write. (
IndieWire
) -What does it say for everyone else when a director like Mike Nichols can lose his confidence? (
LA Times
) -Looks like Brian K. Vaughan's Y: The Last Man might actually be coming to the big screen after all. I don't envy the writers. That's a lot of great storytelling over sixty issues to condense down to 120 pages. (
Movieweb
) -The is a sight that makes me want to cry. Such a great film. (
Criterion
)
Trailers, posters, etc:
-Here is the red band trailer for the NC-17
Elles
, starring Juliette Binoche as a journalist writing a story on a young, high priced call girl. (
Vulture
) -The Japanese trailer for
The Avengers
features some new footage. (
Yahoo
) -The first trailer for Tim Burton's
Dark Shadows
. I remember Sci Fi used to show this after school when I was a kid and I never understood it. Basically, if you don't remember the 70s fondly, you're gonna struggle with this it seems. It's a bad time in Hollywood for passion projects lately. (
Apple
) -And in other vampire trailers this week... OMG SHE'S FINALLY A VAMPIRE. Pattinson can't even pretend to be interested in any of this anymore. (
YouTube
) -The first full
Prometheus
trailer. I could never get into the Alien sequels, so I'm not sure how this will end up. (
YouTube
) -
Battlefield America
, about a bunch of kids in a hip hop dance off. This is right in Justin's wheelhouse. (
Apple
) -And trailers for the two winners at SXSW, the NYC-based graffiti drama,
Gimme the Loot
, which I can't wait to see, and
Beware of Mr. Baker
, a documentary about the rock drummer Ginger Baker. (
MovieLine
) Finally, a day late, but here are Luke Kelly and the Dubliners with some good advice for the young lasses out there: [youtube W5StzrUgmBc]