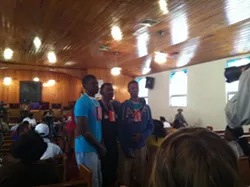 In advance of tonight's sure-to-be-contentious Sanford City Council meeting and tomorrow's HUGE Rev. Al Sharpton rally, dozens of residents gathered this afternoon at the Allen Chapel A.M.E. Church to speak to the NAACP (and ultimately the U.S. Department of Justice) about a perceived pattern of injustice, racially speaking, among Sanford Police authorities. According to Orlando Weekly editor Erin Sullivan – who was in attendance; expect further coverage in next week's issue – Sanford Mayor Jeff Triplett even made an appearance. The takeaway? This has happened before. A man shot while clutching his child was refused a proper investigation; others shared similar testimony. Several residents showed up with Skittles bags dangling from their necks in honor of Trayvon Martin's threatening candy possession at the time of his killing. Outrage was, predictably, everywhere.
"This is what democracy looks like," said NAACP President and CEO Benjamin Todd Jealous, according to Sullivan.
OH, and HEY, not for nothing but, do you know who is responsible for this Stand Your Ground bullshit law that tripled homicides over a five year period in Florida (other than the mysteriously silent NRA)? Jeb Bush is. You know who endorsed Mitt Romney today? Jeb Bush did. Time to start asking some questions of the Republican frontrunner who likes to shoot small vermin, probably.