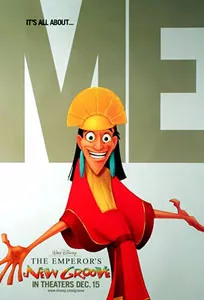 As you might expect, Disney is a bit of a love-hate obsession with this OW writer. Last week, some brave soul risked (financial and legal) life and limb to post 
The Sweatbox
on YouTube. It's since been removed, but that toothpaste isn't going back into the tube. If you're asking yourself what the hell
The Sweatbox
is, there is a good reason you've never heard of it. It's a feature length documentary shot by Trudie Styler, wife of Sting, chronicling the six year process of Walt Disney Feature Animation Studios making what would eventually become
The Emperor's New Groove
, which began life very differently as 
Kingdom of the Sun
before the WDFA chiefs, Thomas Schumacher and Peter Schneider, made a few crew changes. For years now,
The Sweatbox
, has been locked away in a Disney vault, becoming one of those holy grail-type films that people had kind of given up on ever seeing. Disney had honored the bare minimum of its contract for the film, showing it a handful of times at festivals and then stuck it away in the vault. The word was that it was not a very flattering look into the making of the sausage. In fairness, the making of most films is a battle of attrition, and 
The Sweatbox
caught that in all of its bloody awkwardness, casually putting Disney's storytelling and creative process on trial through the consternation of Sting and his furrowed, chess-playing, letter-writing brow. It's hardly a rare tale at all, especially in the animation industry, especially at Disney. It happened to varying degrees on 
The Lion King
before they found the Hamletesque version of the story as well, and even at Pixar on
Toy Story 2
, 
Ratatouille
and 
Wall-E
. Live action is no different, especially in Classic Hollywood.
The Wizard of Oz
,
Gone with the Wind
,
How Green Was My Valley
, they all had major changes in casting, director and script.
Casablanca
and
Jaws
were being filmed during the day and written at night so they could film more the next day.
So why did Disney stick it in the vault? Schumacher and Schneider come off as mean and nitpicky crushers the souls of true artists to everyone who doesn't know better. Writers hate it, but people are usually right when point out something that isn't working, and though some of their choices are questionable in hindsight, they come off as tough but honest execs. By all accounts I've ever read,
Kingdom of the Sun
was just not turning out very good and a change really did have to be made to save the production. It really isn't flattering, but it's a good account of what goes on in filmmaking. Animation is much worse than live action when it comes to breaking the story, because you can't go back and reanimate. Everything has to be solid and in full working order
before
you animate it, or it's a huge waste of time, money and talent.
But Disney didn't have control of the story. You might've heard, they kind of like control of their image. (Rightly so, who doesn't?) But in
The Sweatbox
, Styler and co-director John-Paul Davidson filmed what they saw and what they saw wasn't pretty. It couldn't be saved or put into a good light in the way they did with Leslie Iwerks's
The Pixar Story
, which delved heavily into the angst and disarray that
Toy Story 2
had found itself in under the original director, Ash Brannon, and the mad dash to rework the story within the Pixar brain trust, headed by returning champ, John Lasseter -- who owned the shit out of
Toy Story 2,
creating that rarest of rare thing: a sequel that is better than the original.
The Emperor's New Groove
was thoroughly mediocre in the end, really failing to launch from the beginning with the casting of an almost indifferent David Spade, who palpably sounds like he wanted to be anywhere on Earth other than a recording booth making a Disney cartoon. It is one of the dark time films made when WDFA had trouble finding the way after a fairly impressive string of mega-hits through the 90s. It's kind of strange timing as long-time WDFA lead animator 
Glen Keane resigned this week
. Glen Keane was the hand behind the character design and animation of Ariel, Beast, Tarzan, Aladdin, Pocahontas, and most recently Rapunzel in
Tangled
. That's a hell of a hard hand to replace, and doubly so 
if the rumor that he's moving
to Dreamworks Animation is true. It's a civil resignation letter, but there have been rumors and grumbles of behind the scenes disharmony at Walt Disney Animation Studios, as it's now known.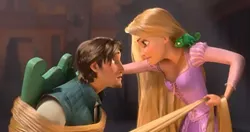 Of course, there are always rumbles of disharmony when it comes to anything inside the House of Mouse, and they usually work through it. But remember when the Pixar guys were supposed to save traditional animation? Whatever happened to that plan? I guess I can't place all of the blame on them. 
Tangled
and 
Winnie the Pooh
were both great, but no one went to see
The Princess and the Frog
or 
Pooh,
and
Tangled
was only partially hand drawn in its otherwise computer animated final form (something Keane was rumored to be unhappy with). From what I can see, there are no traditionally animated pictures left on the feature theatrical slate, just 
Wreck-it-Ralph
, 
Frozen
and
The King of Elves
, which are all 3D CGI productions. I could be wrong, but none of those seem like they've found their way back to the path of great filmmaking, let alone hit making. Maybe they should have taken that
left turn at Albuquerque
.