It's April Fool's day. Right off the bat, I'll say that nothing in this post is fabricated. We got you in the paper already.
Personally,  I always forget what day it is and get suckered in by something so amazing that I don't want to believe it's a fake story. A few years ago, I was so excited when I read that the lost footage from The Magnificent Ambersons had been found and was to be reassembled by Peter Bagdonavich from Orson Welles' detailed notes -- and then I saw the date and felt like a rube buying a stake in the Brooklyn Bridge.
The full trailer for the Total Recall remake, with Colin Farrell and Kate Beckinsale, will be up later today on Apple's trailer site. I suppose if any movie could use an update, it's Total Recall, which I watched again this week for the first time in maybe 18 years or something, and it didn't hold up for me at all. But I have no childhood attachments to it, except for the three-boobed woman, and I'm certain they can do that effect better these days anyway.
Good for Fox for removing the Neighborhood Watch posters and standees from theaters in Florida.
By the way, to talk about pranks for a second, Google won the day with their 8-bit Google Maps cart for NES and Famicom prank.
News, links, etc:
-Must support the first amendment, must support the first amendment, must support the first amendment. I said no more Hunger Games talk, but these people are total dicks. (Jezebel)
-Not that is does his fans over here any good, but Shunji Iwai's Vampire is finally coming out in Japan in September, and hopefully on DVD in Korea shortly (Japanese DVDs are way more expensive than Korean and HK discs). (IwaiFF)
-Mark Romanek's found his journal from his two week's working/observing on Hal Ashby's Being There. (@markromanek)
-Documentaries are not a better form of truth than journalism, no matter what Robert Redford says. People would just rather be entertained while they're generally educated. The fact that most documentaries have a point of view, in fact, makes them kind of bad journalism, even if it's generally thought to be the "right" point of view. They're informative, they're not journalism. (BBC)
-Thailand has a floating movie theater. Why don't we have floating movie theater? (Yahoo)
-The NY Times Magazine has a nice piece on Peter Dinklage today. (NY Times)
-A peek behind the Pixar curtain at Render Man, their animation software, which was rewritten from scratch for Brave. (Pixar Times)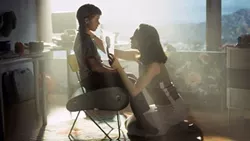 -Suddenly the ending of AI: Artificial Intelligence has become a hot topic again. Personally, I found it to be the perfect ending to a modern fairy tale. Also, it's not a happy ending. Also, they're not aliens. Also it was Kubrick's idea. Anyway, the point is that Jonathan Rosenbaum finally put into words why the ending is beautiful better than anyone I've ever seen (including myself, since talking about the ending has always included me getting mad at the other person for thinking they were aliens, and because I've never been able to stop thinking about the asshole lady who I still hate 10 years later for saying, as they are about to go to sleep, "I just love the design of that house." GAH. (CriticWire)
-One cannot play Jayne Eyre and Madam Bovary, can they?  (Keira Knightly excluded should she ever decide to, of course). (Vulture)
-This kind of gives a new meaning to the word nondenominational, doesn't it? (i09)
Trailers, posters, etc:
-Here is the trailer and the first set of stills from Im Sang-soo's new film, The Taste of Money. A little too much of a Housemaid vibe maybe? (AsianWiki)
-Tonight You're Mine, about two strangers who are handcuffed together for a few days at the T in the Park Festival in London. That sounds lame, but think something like Once, but with handcuffs and starring Tonks (Natalia Tena). I'm a total sucker for these types of movies. (Apple)
-House at the End of the Street, which they might as well have titled Jennifer Lawrence's Cleavage because that's the only thing selling this one. Though according the Rolling Stone article on her, she doesn't really mind you taking a peek anyway. (Vulture)
-The French kidnapping thriller, Sleepless Night, which will be on VOD and iTunes in April. (Apple)
-Safety Not Guaranteed, a time-travel comedy starring Aubrey Plaza and Mark Duplass. (Apple)
-People Like Us, starring Elizabeth Banks, Olivia Wilde, Chris Pine and Jon Favreau. Fuck, Mark Duplass is in this too. He's in everything lately. (Vulture)
-A new trailer for The Dictator. (Apple)
-Sarah Polley's Take this Waltz, finally. (YouTube)