You wanna know my favorite scene from last week's episode of
Mad Men
? It was the one in which
Don
and
Harry
try to get the
Rolling Stones
to shill for Heinz.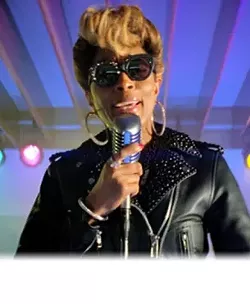 Mary J. Blige -- or racist fever dream?
You, too, huh? Small world. But my reasons might be a little different than yours. The scene wasn't my favorite because of the pot smoking (and the ensuing White Castle run). And it wasn't because of the Bewitched reference, fun though that was. It was because of a single, short exchange that summed up the entire societal milieu of the show's new season -- and concurrently the midlife mindset of its central character.
To recap: Don and Harry meet some Stones groupies. The ad men explain that they're interested in landing the band for a TV commercial. The lead groupie scoffs at the idea. Don counters that the Stones have already done a commercial -- for breakfast cereal. The lead groupie muses that it must have been a long time ago. Don protests: It was only three years.
Only three years. The joke here, of course, is that those three years might just as well have been 300. In 1963, just about every rock and roll act was a pop act, with all of the mercenary orientation that implies. By 1966, rock and roll was well on its way to becoming the loftier "rock" -- a self-professed art form whose avatars were simply above the hawking of any mere commercial product (save their own).
Don, it's clear, is utterly unaware that this ground has moved under his feet; he thinks 1966 is just 1963 plus 36 months. That's a dangerous assumption for any ad man to be making as the Summer of Love looms -- especially when he himself has just turned 40. Suffice it to say that Don's demo-reading acumen appears to approaching its sell-by date. (Which brings a nice note of irony to the episode's title, "Tea Leaves.")
I'm not sure everyone in the audience fully got the import of that sequence. (Online recaps I've read failed to even mention it.) To viewers below a certain age, the idea that a recording artist would see any P.R. value in turning down an endorsement deal must seem flat-out bizarre. These days, you land the commercial first; then, if you're lucky, you get to make an actual record. "Selling out" just doesn't seem to be such an issue when your entire field has long since become a buyer's market.
Burger King's new spokesman meets the press.
The evolving relationship between art and commerce has been on my mind a lot recently. In some avenues -- like popular music -- the two concepts are back to being as inexorably intertwined as they were in 1963. Meanwhile, other art forms have all but ceased to have any marketplace sway whatsoever. Long gone are the days when you could get booked on The Tonight Show to read a poem. Vanished is the time when brainy humorists were regular participants on game shows. ("Let's put that Bennett Cerf on DWTS! He can't rumba for diddly, but he's always good for a bon mot!")
And as with every other aspect of our swiftly rotting economy, the ways in which people seek and agree to get paid have vast implications for our shared notions of identity. So I honestly don't yet know how I feel about the Mary J Blige/Burger King flap, except to say that everybody involved in it seems to be doing an exemplary job of acting like an asshole.
Basically, if you haven't already heard, Blige shot a commercial for the fast-food chain that was pulled almost immediately. Viewers complained that, by literally singing the praises of BK's chicken wraps, Blige was reinforcing unfortunate stereotypes about African-Americans. The company initially explained away its sudden yanking of the spot by saying there were problems with the licensing of the music -- an excuse so transparently bogus it could have been whipped up by a member of George Zimmerman's immediate family. Blige released a contradictory statement, claiming that the ad -- in which she appears to give an impromptu concert inside a Burger King restaurant -- was meant to be framed as a "dream sequence," but the framing footage was somehow excised. Burger King then weighed in again, corroborating Blige's account (and somehow managing to stifle a Basil Fawlty-esque "Brilliant!" in so doing).
Okay, let's stop for a second, inhale, and try to make some sense of this. If the objection to the ad largely stemmed from the unfortunate association of blacks with fried chicken, how could all of the "framing" in the world change that? Burger King vows that the full edit will eventually be unveiled; when that happens, will we learn the Blige "concert" was merely in the mind of a racist redneck patron who should know better? Will he get his comeuppance via some sort of playfully humiliating role reversal? Was the true intent of the ad to turn stereotypes on their head, but in a lighthearted, fun way that will bring the races together while still aggressively pushing the product? If so, have fun threading that needle, oh Drapers of today. You'll have really earned that Clio.
Obviously, it's all bullshit, and the full-length commercial is never, ever going to see the light of day -- not after this ruckus. And I don't blame black America for being uneasy about perpetuating harmful clichés, particularly at a time when even the hoodie has to be defended as a sartorial choice. Conversely, I also fully support the talkbackers who have answered that they happen to enjoy fried chicken, and that they see no need for Blige and BK to pretend that they (and their tastes) don't exist.
What we have here is the age-old problem of a social group wondering if they have to deny certain traits and preferences in order to avoid being defined by those traits and preferences. Should Jews everywhere come together to land haymaker blows on Gene Simmons whenever he launches into another ode to the almighty dollar? Or is it instead bigoted to want to censure one of the tribe for sounding "too Jewish"? (If you don't know the answers to these immortal questions, it's your lucky day, because I'm going to clear up every one of them definitively and persuasively within the next couple of paragraphs.)
But getting back to the Blige story, what interests me the most about it is that some people took exception to her ad simply because it was allegedly unbecoming of her stature. Forget racism; in their eyes, that was just a side issue to the mortification of seeing a Real, Meaningful Artist reduced to a crap-food pitchwoman.  Gawker's Rich Juzwiak even painted the Blige/BK marriage as emblematic of a tragic gradual "sellout" (you knew that word was coming) on the part of hip-hop as a whole.
Never mind that Blige isn't expressly a hip-hop artist; the real curiosity here is the quaintly nostalgic (read: wrong) notion that populist art forms are incubated somewhere outside the marketplace. I remember the first time I saw the phrase "No Sell Out": It was on a T-shirt that was going for 10 bucks in Greenwich Village. I can't think of a Western musical or cultural movement whose originators didn't have at least one eye on the cash register. Before rock and roll discovered that it wanted to end the Vietnam war, it was mostly focused on how nice it would be to have a spiffy car and a steady job. We also need to remember that even serious artists gotta eat, and it thus sometimes behooves them to peddle their wares to licensees who might actually pay them, rather than record and concert impresarios who probably won't. (A friend and I recently had a good laugh over a commercial jingle the Yardbirds had recorded -- until we realized it might have been the only project they ever saw a penny from.)
In hindsight, the anti-commercial stage of "youth culture" was just a blip between the era of Roger Sterling and the age of the chicken wrap. And it doesn't make me a yuppie scumbag sellout to say that. It just means that Heinz is on my side.