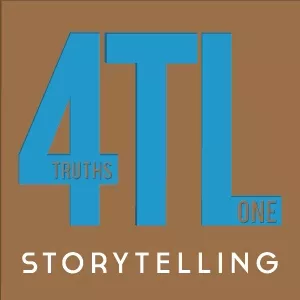 A son comes to terms with his occasionally abusive stepdad.
A stand-up comic confronts a joke-stealing competitor.
A Catholic school playground dare turns into a teeth-shattering brawl.
A drunken third date turns into an anatomical disaster.
A young man finds himself cornered by a Costa Rican hotel clerk with a copious porn collection.
Answer quick: which tales do you think are true, and which one is a bald-faced lie?
Host Audrey Kearns and collaborators Brian Bradley, Megan Whyte Soule and Matt Soule (formerly of Orlando's fantastically funny Discout Comedy Outlet) have finally returned from Hollywood, and they've brought their hit MOTH-inspired storytelling scheme along. Each performance of 4 Truths and a Lie (pared down from the "5 Truths" of the L.A.-based podcasted production) features five different local voices venting on various topics.
At the performance I attended, Scottie Campbell, Paul Strickland, Maria Ragen, Meghan Moroney, and Chris Dinger shared stories along the theme "High Noon: Threats, Standoffs, and Showdowns." All were excellent racaunteurs, with Moroney delivering the raunchiest tale and Campbell the most affecting. The audience cast ballots at the conclusion predicting which of the 5 was the prevaricator. I and my audience chose poorly (I'll never trust Strickland again!), part of an unbroken streak of successful lying since the shows started in Kearns' living room.
True or false, all five tales were worth telling and told well, making it an hour well worth my while. While your mileage may vary with the lineup, they have some talented talkers still on deck; see fivetruthsandalie.com for the roster.
Hand Puppet Inc. - Los Angeles, California
Show Schedule:
Friday 18 May; at 11:30pm in the Brown
Saturday 19 May; at 5:30pm in the Brown
Sunday 20 May; at 9:30pm in the Brown
Tuesday 22 May; at 5:30pm in the Brown
Thursday 24 May; at 11:00pm in the Brown
Friday 25 May; at 9:30pm in the Brown
Saturday 26 May; at 6:00pm in the Brown
Price: $9 + Fringe Button (good for entire Fringe)
Discount(s): None
Rating: Mature, Some adult content and language