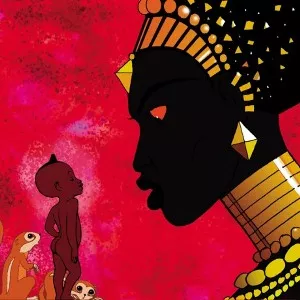 If you fondly remember the 1998 animated film Kirikou and the Sorceress, you won't have much trouble following along as the Orlando School of Cultural Dance retells the classic African folktale. If you're less familiar with the story, you may get a bit waylaid by their long, technically uneven and only fitfully energetic production.
Narration, pantomime and straight-up dialogue are all attempted to draw us into the world of Kirikou, a precocious little child who's issuing bold statements of will even before he escapes the womb. That sort of self-determination makes Kirikou (once he's born) the perfect candidate to rescue his village, which has fallen under the spell of a sorceress with a seeming vendetta against its males.
This is essentially a dance recital gussied up as a play, which is why it's not entirely surprising that there are few real actors on the stage and a good chunk of the dramatic exposition gets lost in the cavernous Orange Venue. From a viewer's perspective, much of the playacting is just biding time until the tribal drums beat again and the students get another chance to stomp it up. The dance routines generally have little to do with the unfolding narrative -- and they don't have to, given that little kids doing African steps is unquestionably one of the happiest sights in the world. I spotted at least one young powerhouse who might have set off Bill T. Jones' recruitment alarm. An entire program of pure choreography from this bunch would send their audience out in a jubilant swoon, rather than a state of mildly frustrated indulgence.
Orlando School of Cultural Dance - Orlando, Florida
Show Schedule:
Saturday 19 May; at 11:30am in the Orange
Sunday 20 May; at 1:00pm in the Orange
Saturday 26 May; at 11:30am in the Orange
Sunday 27 May; at 5:00pm in the Orange
Price: $10 + Fringe Button (good for entire Fringe)
Discount(s): None
Rating: Family Friendly