Well, the first week of Cannes is over and if someone held a gun to your head and said "pick a frontrunner for the Palme d'Or", you'd have to say it's Jacques Audiard's Rust & Bone, though it likely won't win (going by the buzz, Marion Cotillard seems like a high choice for Best Actress, and films are only allowed one award).
There doesn't seem to be anything in competition with huge buzz so far apart from Rust & Bone, which could possibly turn around all the Katy Perry haters with its use of Firework. Last year was something of an aberration year with the huge buzz behind The Artist, Melancholia and Tree of Life, as well as The Kid with a Bike and Polisse, which are just making the rounds now (no word yet on Orlando screenings for either).
Thomas Vinterberg's The Hunt seems to be the biggest disappointment so far, followed not so far behind by John Hillcoat's Lawless (though Tom Hardy seems to be getting praise for his Bane-like villainy role) and Michel Gondry's busride from hell film, The We and the I, where, apparently, all of the interesting characters get off of the bus too early.
Brandon Cronenberg's Antiviral seems to be taking a lot of heat as well, though much of it for his film not living up to his famous last name than anything else.
But the most praise at the festival so far seems to have been reserved for Ben Zeitlin's Sundance winner, Beasts of the Southern Wild, which really does look amazing from its trailer. The film is set for a late June limited release in North America, and I'd be surprised if the Enzian didn't pick it up for a week or two in July.
Michael Haneke's Love, Hong Sang-soo's In Another Country, Abbas Kiarostami's Like Someone in Love and Alain Resnais' You Ain't Seen Nothin' Yet are on tap for Sunday.
News, links, etc:
-If you're even remotely interested in Cannes, you should be reading Sasha Stone's Cannes Diary at Awards Daily. (Awards Daily)
-Alfonso Cuaron's Gravity has been pushed back to 2013, likely because of a shortage of IMAX 3D screens. THIS IS AN OUTRAGE (especially since it's not native 3D). (Rope of Silicone)
-MUBI sponsored Apichatpong Weerasethakul's new lomography short film, Ashes, which you can watch on their site for free. (MUBI)
-Sharon Waxman has an interview with former 60 Minutes producer Lowell Bergman about what he really thought Mike Wallace's problem with Michael Mann's film The Insider was. He raises a good point, I think, about the nature of television journalism being collective journalism instead of pure journalism, like All the President's Men (which, of course, it under attack right now because of the Ben Bradlee book). Either way, The Insider is one of my favorite films, dramatic liberties be damned. The real story probably floats somewhere in the gray space between the film's black print that Bergman is an imperfect but shining beacon of truth and morals and Don Hewitt and Wallace were good newsmen who were terrified of a story blowing up in their face. But as a film, where I have no particular loyalty to anyone involved, it's a masterpiece that I pull more out of every time I watch it. Its only real problem is that too many people thought it was about cigarettes instead of censorship. (The Wrap)
-A status report on all of the films Terrence Malick has on his plate at the moment, including the newly titled To the Wonder. (IndieWire)
-If you had billions of dollars would you change the face of film like Megan Ellison is doing? (LA Times)
-Everyone's favorite (or second favorite) Hulk moment from The Avengers, in storyboard form. (JaneWu.net)
-The Angelina Jolie leg pose. Still? (THR)
-Life Magazine has a pretty boring set of unpublished photos, mostly of photographers and Natalie Wood and Warren Beatty, in the 60s. Kind of surprising. Their unpublished photos are usually some of the best photo sets you'll ever see. (Life)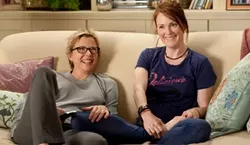 -A panel of female Columbia University grads (Lisa Cholodenko, Nicole Holofcener, Shari Springer Berman and Cherien Dabis) who went on to make some pretty good films (The Kids are All Right, Friends with Money, American Splendor and Amreeka respectively). (IndieWire)
-David Bordwell's new book, Pandora's Box, about the digital movie revolution, is available as a cheap ebook from his site. (DavidBordwell.net)
-The Jimi Hendrix biopic cannot feature any Jimi Hendrix music. No big deal. Music wasn't a big part of his life. (Sounds like they'll get around it the same way Backbeat did.) (IFC)
-A good read about the Duplass Brothers. (NY Times)
-What are people actually snorting, smoking and jacking in movies? (Wired)
-Matt Singer's interview with Frederic Jardin, the director of Sleepless Night (now out on VOD). (Screen Crush)
-A long read interview with Michael Fassbender. (GQ)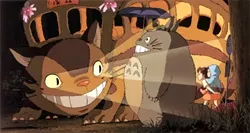 -Think you know everything possible about Studio Ghibli? Test it against this. (AV Club)
-More 30 for 30 coming from ESPN. It's a great series and hopefully that continues as it integrates with Grantland. (Grantland)
-Anthony Bourdain has more episodes of The Layover coming, as well as an adaptation of his novel, Bone in the Throat. (THR)
-Speaking of animation, the story of how Toy Story 2 was almost lost. (YouTube)
-George Lucas's petulant revenge on his Lucas Valley neighbors who squashed his dream of building a movie studio on his property is great news for everyone not involved. (SF Chronicle)
-An interview with Brave director, Mark Andrews. (/Film)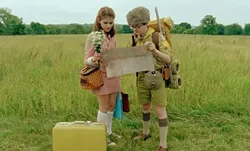 -And one with Wes Anderson. (Time Out London)
-And another one with Wes Anderson, Bill Murray and Moonrise Kingdom starlet Kara Hayward. (Harper's Bazaar)
-And another one still with Wes Anderson. (The Guardian)
-Here are some great behind the scenes photos from ET. (Museum of Cinema/Flickr)
Trailers, posters, etc:
-The first trailer and poster and a shitload of images from Michel Gondry's The We and the I, which is not about time travel as was originally suggested, but about the reason I fucking hated riding the bus home from school: loudmouth kids who act like they own the bus. There are also a few paparazzi photos from the set of his next film, Mood Indigo, in there too. (IndieWire)
-Hyde Park on Hudson, starring Bill Murray with a weird accent as FDR. (Yahoo)
-The Oscar-nominated animated film, A Cat in Paris. (Apple)
-Orlando Bloom in The Good Doctor, from Irish director Lance Daly, whose last film, Kisses, was an underrated gem. (Apple)
-The first look at Paul Thomas Anderson's The Master via a few inches of 65mm film stock. (Cigarettes & Red Vines)
-The first clip from Gimme the Loot really dampens my interest an awful lot. They really couldn't find a better clip that this? (IndieWire)
-The Odd Life of Timothy Green, a bit of hi-concept Disneyana from Pieces of April director Peter Hedges. (IMDb)
-First image of Scarlett Johansson as Janet Leigh, and another of Hopkins in Hitchcock. (Indiewire)
-The Do-Deca-Pentathon, from the Duplass Brothers. Looks awkwardly hilarious. (Apple)
In honor of Rust & Bone, let's reconsider Firework shall we?
[youtube QGJuMBdaqIw]