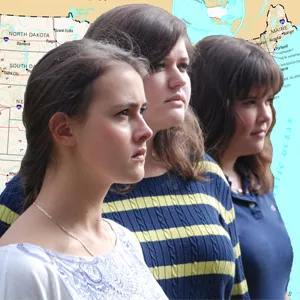 One of the rewards of regular Fringe-going is the chance to see promising teen performers introduce themselves to the community. Watching them work, you think of all the rituals of local theater they've yet to experience. They've never written on the backstage wall at Theatre Downtown, or seen their names misspelled on Ink 19.
All that and more awaits the cast of Ride, a simply excellent production of playwright Eric Lane's drama about three young women on a proverbial journey of self-discovery. Carrie (Allison Cooper) is the oldest of the three -- just out of high school -- yet she still squees like a tween when she sees the shiny new car Molly (Olivia van den Berg) has received from her dad. Molly is less impressed; she mostly sees the vehicle as a means by which to confront the hussy who's stolen her old man's heart. Along for the ride is Carrie's 11-year-old sister, Sam (Madeline Walker), a hyperactive motormouth who's obsessed with the history of consumer-product recalls.
It would be easy to credit director Janine Papin for having drawn out the three fine performances we see on the stage; easy, and also ageist. All of the actors show such natural talent that who's to say how much of the praise should go where? Cooper makes the most of some introspective soliloquies that act as the play's spine, and Walker manages the difficult feat of making Sam annoying to Carrie but not to us. As for van den Berg, she takes a role a lesser performer could reduce to sullen, monochromatic moping and injects it with appealing flashes of good-natured amusement within an overall mien of disillusionment. Van den Berg looks and sounds a bit like a young Jennifer Aniston; unlike Aniston, however, she stands a good chance of one day becoming a professional actor.
Coming to us straight out of Trinity Preparatory School, Ride is a superb offering that could (and does) put some of the Fringe's "adult" entries to shame. Congratulations, ladies. I hope I spelled your names right.
Twin Arrows - Orlando, FL
Show Schedule:
Thursday 17 May; at 6:00pm in the Green
Sunday 20 May; at 6:15pm in the Green
Tuesday 22 May; at 10:30pm in the Green
Wednesday 23 May; at 7:00pm in the Green
Sunday 27 May; at 11:15am in the Green
Price: $8 + Fringe Button (good for entire Fringe)
Discount(s): None
Rating: G-14, Strong language