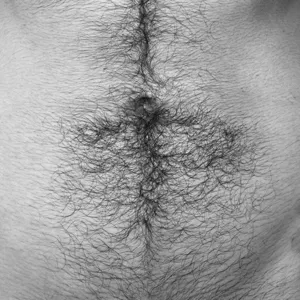 Swimming against the Fringe tide of fun-'n'-games, Mysterious Skin is a tidily put-together production of a play about falling apart. You may hear gusts of raucous laughter drifting in from other venues, but during Skin's 90-minute runtime, the Orange Venue is a roiling cauldron of emotional messiness.
OK, it's not all desperate -- intense as the co-lead characters' conflicts may be, there are moments of lightness, and the mood is brightened by the '80s/'90s soundtrack. This story of a cocky-slash-vulnerable male hustler (Michael Martin) and an awkward young man who believes he may be an alien abductee (Anthony Pyatt Jr.) grapples with graphic and at times disturbing themes -- but not more disturbing than the storyline of any network cop drama.
Director-producer Jeremy Seghers and co-producer James Brendlinger handle the material frankly and maturely, without coyness but also without sensationalism. (Not an easy task in a conservative town, to show full-frontal male nudity without playing for shock or for laughs.) The cast is wonderful, across the board -- Martin and Pyatt are both utterly natural and engaging; Marcie Schwalm and Emily Killian make believable individuals out of what could be matching "female-friend-of-lead" roles; Olivia Haine, embodying every cliché of the bored receptionist in a bit part, is a much-needed bright spot; and Paul Layton must be commended for fully committing to the brutality of his part, awful as it is to witness.
The only quibbles I might have with Mysterious Skin were some too-loud, too-dramatic sound cues -- a leap-inducing SNAP! each time a time shift was introduced and a somewhat mawkish recurring disembodied voice -- but these are minor. You'll have guessed the twist in the tail of the plot long before it's actually revealed, but it doesn't lessen the emotional power of the final scene. I suggest moving on to some Fringey fabulousness directly afterward, though -- the beer tent or a comedy -- because ending the night on a sob, moving as it may be, isn't anyone's idea of a fun night out.
Carbon Productions, LLC - Casselberry, FL
Thursday 17 May; at 11:30pm in the Orange
Saturday 19 May; at 7:30pm in the Orange
Monday 21 May; at 10:45pm in the Orange
Tuesday 22 May; at 6:00pm in the Orange
Friday 25 May; at 9:15pm in the Orange
Saturday 26 May; at 3:15pm in the Orange
Sunday 27 May; at 7:15pm in the Orange
Price: $10 + Fringe Button (good for entire Fringe)
Length: 90 minutes
Rating: Mature, Nudity, violence, sexuality, adult situations, language