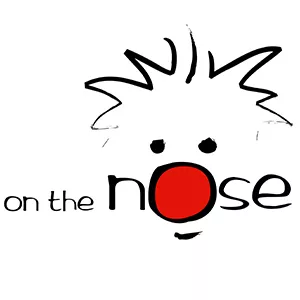 I've never understood why some people are so afraid of clowns. Why harbor a phobia of something that's meant to convey laughter and joy? Why not dread something genuinely threatening, like intimacy or Mandy Patinkin?
This is among the subjects covered in On the Nose, a delightful and fascinating hour of education in all things clown. Professor Weiss (Mark Jaster) and his eternally suffering assistant, Poppy Cox (Sabrina Mandell), conduct an uproarious show and tell explaining the significance and the tactics of their art. And in between the live bits, we get to watch portions of a filmed documentary that reinforces our learning via performance footage and talking-head commentary from famous clowns and other experts in the field.
I'm not normally a fan of being made to watch video at a theater festival, but co-producers Elena Day and Antony Bolante have integrated this material effectively into the show. And whether it's unfolding on the screen or before our eyes, the schooling we get is pretty darn vital. We learn, for example, that the true definition of "clown" is quite different than what some of us might expect -- which is why Stephen Colbert probably qualifies as a clown but Ronald McDonald doesn't.
The Professor and Poppy aren't stereotypical clowns, either: They don't possess a fright wig or hobo cigar between them. But they're still great comedians in the grand tradition; in fact, they happen to give just about the two best performances I've seen all Fringe. Jaster has a supremely malleable face and hairless head that enable him to go from straight man to goon in no time flat, while Poppy is just an adorable sad sack whose antecedents run the range from Stan Laurel to Beaker the Muppet. Accordingly, she's constantly humiliated but never once loses her dignity -- even when she ends up wearing an oversize phallus as a scarf.
Now, tell me: Who in his right mind would be afraid of that?
TOBO Productions - Orlando, FL
Show Schedule:
Thursday 17 May; at 11:15pm in the Green
Saturday 19 May; at 1:15pm in the Green
Sunday 20 May; at 11:30pm in the Green
Wednesday 23 May; at 5:15pm in the Green
Thursday 24 May; at 7:15pm in the Green
Saturday 26 May; at 9:45pm in the Green
Sunday 27 May; at 2:45pm in the Green
Price: $11 + Fringe Button (good for entire Fringe)
Discount(s): None
Rating: General