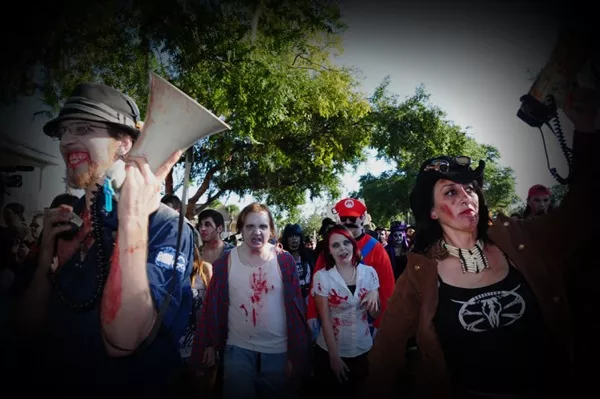 Friday, May 25 –
Spooky Empire's May-Hem
with Linda Hamilton, John Astin, Ace Frehley, Joey Lauren Adams, Vivica A. Fox, Monica Keena and more
through May 27
Wyndham Orlando Resort
8001 International Drive
888-690-4695
spookyempire.com
$30-$35 (day pass); $50 (weekend pass); $199 (VIP)
Is it even possible to label
a horror gathering
a "breath of fresh air?" If so, Florida event promoters Spooky Empire have earned it after spending the last several years growing their brand the right way – by giving the fans what they want, nay, need: a sense of spectacle. For decades,
Orlando's geeks
had to either gun it to Georgia's DragonCon for a dose of convention excitement, or try to get revved up for another MegaCon. No disrespect to those other cons, but the ol' Joss-verse panels and Jim Lee/George Pérez signings just aren't cutting it anymore. So here comes May-Hem, a three-day resort party so buzz-heavy that even some of the ladies around the
OW
office were checking their calendars for this one. Friday brings a
boozy, bloody pool party
with the Bloody Jug Band and a one-man show by "Rowdy" Roddy Piper, while Saturday boasts original
The Addams Family
cast members, some
Buffy
and View Askewniverse stars and (OMG!) a shadow cast performance of
Dr. Horrible's Sing-A-Long Blog
. How about
KISS original shredder
Ace Frehley and the
Terminator
franchise's Linda Hamilton on Sunday? Yeah, we thought so.
– Justin Strout