New Orlando Concert Announcements [Guided by Voices, Yo Gotti, Lozen, Tallhart, and more]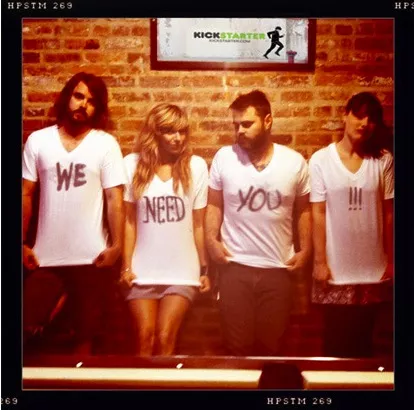 Today the Moon, Tomorrow the Sun plays Stardust June 9. Here, they pose in their handmade t-shirts for a Hipstamatic photo that was used on their Kickstarter project. So yeah, they'd probably get mad if you called them 'hipsters."
Only a handful of new show announcements this week; it's summer, so things are gonna slow down for a while. But not to worry, there's still plenty of good stuff going on.
June 9: Today the Moon, Tomorrow the Sun, A.T.T.I.C. [Stardust]

June 9: The Ox Project [Will's Pub]

June 10: It Runs Through Our Blood [Will's Pub]

June 23: Savi Fernandez Band [Social]

June 25: 2Chainz [Beacham]

June 29: Appetite for Destruction [House of Blues]

July 2: Lozen [Will's Pub]

July 5: Hellbound Glory, Six Time Losers, Fifth on the Floor, Lonesome Moses [Will's Pub]

July 12: Control This, Skylarking Soundsystem [Social]

July 13: Out Go the Lights [Will's Pub]

July 15: Tallhart [Social]

July 17: Yo Gotti, Mook Boy, Lil Pesco, Disco Jr [Beacham]

Aug. 3: The Bloody Jug Band [Tanqueray's]

Aug. 30: Matisyahu, the Dirty Heads [House of Blues]

Sept. 19: Guided By Voices, Detective [Beacham]
We welcome readers to submit letters regarding articles and content in Orlando Weekly. Letters should be a minimum of 150 words, refer to content that has appeared on Orlando Weekly, and must include the writer's full name, address, and phone number for verification purposes. No attachments will be considered. Writers of letters selected for publication will be notified via email. Letters may be edited and shortened for space.
Email us at feedback@orlandoweekly.com.
Support Local Journalism.
Join the Orlando Weekly Press Club

Local journalism is information. Information is power. And we believe everyone deserves access to accurate independent coverage of their community and state. Our readers helped us continue this coverage in 2020, and we are so grateful for the support.

Help us keep this coverage going in 2021. Whether it's a one-time acknowledgement of this article or an ongoing membership pledge, your support goes to local-based reporting from our small but mighty team.

Join the Orlando Weekly Press Club for as little as $5 a month.