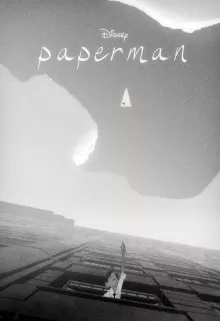 Of all of the films I've been impatiently waiting to see this year, the one I might be the most excited about is a little black and white short film that I can't even pay to see. I'll have to pay to see another film (Wreck-It-Ralph), and I'm okay with that. I love that Disney packages its features with pre-show shorts. I wish more live action features would do the same, especially in art houses, like the Enzian.
Paperman is a love story set in Manhattan in the 1940s, and its style -- a sort of dappled, zoomed in news print style -- is one of the most exciting things I've seen in a long time. As you can see from this first look video Disney posted, the film is visually almost the anti-Pixar, reminiscent of the jaggies that Ed Catmull and Alvy Ray Smith worked so hard to eradicate, but looks to perfectly fit the story and its atmosphere.
It screened late last week for Pixar employees and the animators and directors at there have all been raving about it and how revolutionary it is.
Paperman and Wreck-It-Ralph come out on November 2nd.
Appearing online next week, according to an interview with Coming Soon, is another short film from Wes Anderson, whose last live action feature film, The Darjeeling Limited, also came with a short film, the delightfully enchanting Hotel Chevalier, with Jason Schwartzman and Natalie Portman.
This time, it's an animated companion piece to Moonrise Kingdom (Enzian 6/22), taking a look inside Suzy's (Kara Keyward) suitcase full of young adult novels as they come to life, narrated by Bob Balaban, who also narrates the film in a Zissou style.
It's a good time to be a short film fan.