Monday, June 4
http://www.youtube.com/watch?v=YXwYJyrKK5A
Two Door Cinema Club, Clap Your Hands Say Yeah, Bad Veins [Beacham] - Remember when Clap Your Hands Say Yeah was gonna be the biggest indie band ever? Hahaha. Me too. Well, maybe they can tell the kids in Two Door Cinema Club how that worked out for them, because right now, Two Door is just about the biggest indie band ever. Ireland beats Brooklyn!
Tuesday, June 5
http://www.youtube.com/watch?v=KOuzyw2LFcI
Wednesday, June 6
http://www.youtube.com/watch?v=bNYVFDgM0HE
Ceremony, Great Deceivers [Back Booth] - A lot of people really really hate the "new" Ceremony. I am not one of those people. I mean, I guess I understand how one can be baffled by the band's change in sound, but there is nothing on Zoo that isn't awesome. And, you know, the band still completely slays live, but yeah, the hardcore bros are gonna be seriously confused.
Also playing:
Thursday, June 7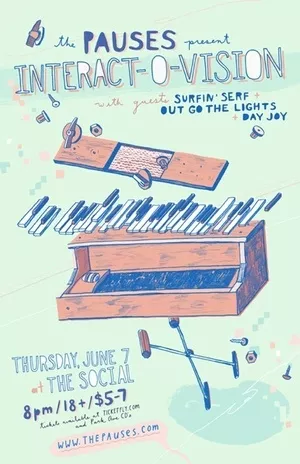 Friday, June 8
Saturday, June 9
Relief in Abstract Showcase with XXYYXX, Fortune Howl, Grant [Back Booth] - Local label puts on show at local bar highlighting local acts. YAWN. Except, Relief in Abstract is really trying to push some boundaries here, focusing on this city's fringe of indie/synth-wave experimentalists, who seldom get a chance to strut their stuff on local stages. Look for more info on this show in this week's Weekly, but rest assured, this is definitely a show worth checking out.

Today the Moon, Tomorrow the Sun, A.T.T.I.C. ["Pretty Party" at Stardust] - I don't know if you have to be pretty to go to this show, but the music will be.
http://www.youtube.com/watch?v=pK73m3jbTYg
Also playing:
Sunday, June 10
It Runs Through Our Blood, the Dull Blades, the Mother Machine [Will's]