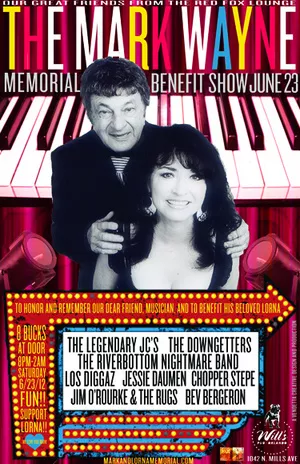 I can't believe I forgot to include this in yesterday's concert announcements, but I did. Anyway, it deserves its own post.
Some of the best bands in Orlando are getting together to raise some money to help defray some of the expenses (and the financial impact) incurred when Mark Wayne passed away  earlier this year. If you don't know who Mark Wayne is, you should.
http://www.youtube.com/watch?v=YcXpExYgx04
Mark & Lorna were, quite simply, the best pure entertainers in this entire city, and their stint at the Red Fox Lounge in Winter Park seemed as much a permanent aspect of Orlando as Disney World. Of course, it wasn't, and the loss of their regular shows has been a pretty huge blow to longtime residents of our humble burg.
Thankfully, some of the other entertainers in our town realized just how vital Mark & Lorna were to our happiness, and have gathered together to pay tribute to Mark, his music, and, of course, Lorna too.
June 23
Will's Pub
$8
Performing:
The Legendary JC's

The Downgetters

The Riverbottom Nightmare Band

Los Diggaz

Jessie Daumen

Chopper Stepe

Jim O'Rourke and the Rugs

Special Magician Performance by: Bev Bergeron