Making covers for
Orlando Weekly
is easy... when you hire amazing artists to do them for you.
You have about 24 hours left to pick up a print copy of OW with one of my favorite covers this year, for Billy Manes' Our Dumb State, Vol. 9, which is all about guns in Florida. (Check out the fab story here, and listen to Billy's gut-punch of a radio broadcast on WMFE here.)
The cover was created by James Heimer, whose bio is below. I thought you might enjoy seeing how it came together, particularly so you can see how James works. It began with an artist postcard. I get a lot of these (though never enough), and here was the one James sent:
OW photographer Barry Kirsch had been dispatched to take photos for the cover, things like gun shows, gun shops and people toting guns. Of course no gun owner or seller would allow this, and we didn't want to single anyone out, either, since the entire state is a mess about guns, not just any one person or group (well, except for you, NRA). So when I saw James' postcard I wondered if he might have some ideas. He did...
The second one was his favorite, and I didn't even remember the other two images until just now, as I'm posting this. The second one was my favorite one, too. Next, we had a looooong conversation about color, and what color mixes work best for our fine publication. James was ready with these final two sketches: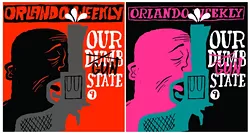 I asked him to swap out the Orlando Weekly flag on top. I wanted the black background cover art, but with the red version's flag. Just look at what he made:
See how this happened? It was him, people. All James. Friend him, follow him, hire him. He's a damn good artist and a lot of fun to work with. Here's his bio. Thanks, James!
JAMES HEIMER
I earned my BFA in illustration from the University of the Arts in 2004. My junior year I started grinding out hand screenprinted gigposters for local venues at a feverish pace. Since then I've shown work in a a number of Philly art spaces as well as Civilian Art Projects in D.C. and the Museum of Design in Atlanta. My work has also been featured in Meathaus, Inkberrie Magazine, John Foster's "Dirty Fingernails", the documentary film "Died Young, Stayed Pretty" and it even popped up in the background of an Always Sunny episode. I'm probably best know for creating the bird logo for the Philly punk rock band The Wonder Years and to my dismay a couple hundred of their fans now have my artwork tattooed on their bodies. My major influences include (but aren't limited to) Max Beckmann, George Braque, John Waters, Keith Haring, Saul Bass, Jim Thompson, Art Chantry, Jack Kirby, Polish Film Posters and all things dirty, shitty, hand made and badly printed. Recently I've been loving Sean Phillips, Mu Pan, Emma Rios and pretty much anything NoBrow unleashes onto the world. I currently reside in South Philadelphia and earn my living as a Freelance Illustrator and Lecturer.