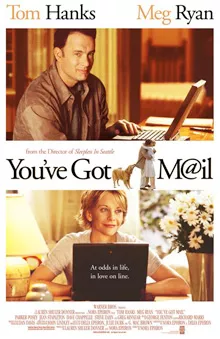 I know the blogosphere is inundated today with remembrances and essays and photos and eulogies of Nora Ephron and there isn't enough time to read them all, so just quickly, a few words on You've Got Mail -- aka the film I've had to eat the most shit over liking ever.
Since its first release in 1998, the arbiters of bad taste seemed to immediately decide that the gooey email rom-com was indeed in very poor taste. In a film extolling the virtues of the little guy standing up to the big corporate guy, the big guy wins and puts the little guy out of business. Worse, the movie seemed to incorporate every single big corporation possible, most notably AOL and Starbucks, into the movie's foreground. Worst still, it's a -- yuck -- remake. Of a Lubitsch film and Sleepless in Seattle to boot! The story is basically predicated on cheating, and besides, she'd never fall in love with the suit who put her out of business and stamped on the memory of her dead mother.
All of that is true, and worth the time to note. It's valid criticism, and I'd never argue it wasn't. It can be said that certain rom-coms require you to turn your brain off and just let the improbable story flood over you and take you in its lazy drift. You've Got Mail is not one of them. It requires you keep your brain on to actively edit out all of those points as you wash away in its lazy drift.
So why, then, do I like You've Got Mail?
Simply, I'm charmed by it. Completely, totally, utterly. That's all.
By Kathleen's romantic little notions. By how hurt she can get, and how clearly and unguarded it shows in her face, and how she can find it in herself to eventually defend herself so fiercely when confronted -- and by how she deals with the regret of saying horrible things.
That even though she doesn't overcome the odds and save her store, she saves the soul of her store in the photograph of her mother and the simple door chime and tucks it away as a memento.
And by Joe Fox. F. O. X. How sad and embarrassed he is by what he's done. How he eventually pushes aside the bottom line and does find his heart, and finds out everything is personal.
By the mystery relationship between Birdie and Cecilia, Kathleen's mom.
And George's girl trouble.
And New York in the fall.
And the winter.
And by "the horn is so forlorn".
And the gentle whirring of the Olympia Report Deluxe Electric.
And pumpkins, and Christmas lights, and caviar garnish, and the bouquets of sharpened pencils.
Charm is a dead idea today. Once a staple of the industry -- in fact, once the entire industry -- there is so little of it left besides Hanks and Clooney, Streep and Winslet, and who else? Emma Stone perhaps. Not Kristin Stewart or Amanda Seyfreid, not Ben Barnes or Anton Yelchin. Now, instead, we have quirk. And quirk sucks. We could use a little bit more charm in our lives again, and certainly a little bit more screwball in our movies.
By the way, the Times has a great picture of Ephron in the press gaggle from the Beatles' arrival at JFK in 1964.