Notable Noise: This week's best shows [Mess Fest, I4 Fest, Fresh Music Fest, and some non-festy stuff, too]
It's a holiday week. It's the middle of the summer. No, there's just not a lot going on ... except all of this cool stuff:
Monday, July 2
http://www.youtube.com/watch?v=A6nzSvG3ulA
Tuesday, July 3
Bearcat (photo from Emilee Amerine Photography)
Wednesday, July 4
Two big festivals today! Mess Fest on theWill's/Lou's strip is crusty and punk-y and loud and raucous.  I4 Fest  at Austin's will be its usual scene-celebrating self, with some of this city's best underground bands.
Thursday, July 5
Friday, July 6
Saturday, July 7
http://www.youtube.com/watch?v=BfsJ_gafXxw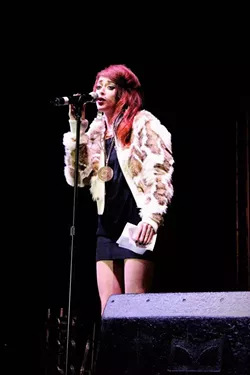 Sunday, July 8
We welcome readers to submit letters regarding articles and content in Orlando Weekly. Letters should be a minimum of 150 words, refer to content that has appeared on Orlando Weekly, and must include the writer's full name, address, and phone number for verification purposes. No attachments will be considered. Writers of letters selected for publication will be notified via email. Letters may be edited and shortened for space.
Email us at feedback@orlandoweekly.com.
Orlando Weekly works for you, and your support is essential.

Our small but mighty local team works tirelessly to bring you high-quality, uncensored news and cultural coverage of Central Florida.

Unlike many newspapers, ours is free – and we'd like to keep it that way, because we believe, now more than ever, everyone deserves access to accurate, independent coverage of their community.

Whether it's a one-time acknowledgement of this article or an ongoing pledge, your support helps keep Orlando's true free press free.