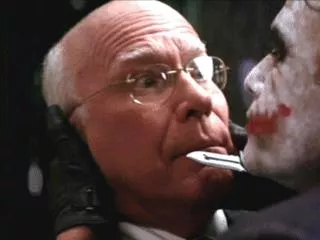 One ill-considered comment about Barbara Boxer's makeover is all it takes.
In a world of reboots, recalls and regrets, it's nice to know that some things don't change. Like Senator Patrick Leahy appearing in a Batman movie, for example.
Per the AP, Senator Leahy (D-FameWhore) has a small role in the forthcoming The Dark Knight Rises. That makes two consecutive bat-cameos for Leahy: In 2008's The Dark Knight, he had a memorable bit as a partygoer threatened by Heath Ledger's knife-wielding Joker. (Fending off psychopaths seems to be something of a cottage industry for the Senator, given that he's best known in some circles as the guy Dick Cheney told to go fuck himself.)
Of course, given that the AP is an ultra-lefty outfit crawling with all the commies Allen West hasn't yet rounded up, their story engages in some selective omission to make Leahy look good. His habit of dropping in on the Caped Crusader didn't begin with the celebrated, record-breaking The Dark Knight: It actually started with the 1997 stinker Batman and Robin, in which Leahy can be seen among the crowd of high rollers falling all over each other to bid for the attentions of the seductive Poison Ivy (Uma Thurman). Let's all do Leahy a solid and pretend it was Eliot Spitzer instead -- because when you think about it, it kinda was.
It should come as no surprise, then, that Leahy is an avowed batfan, and his cute determination to get his entitlement-lovin' little mug in front of the camera whenever his hero is in town makes him sort of the Stan Lee of DC Comics on film. But just what is he going to be seen doing in The Dark Knight Rises?  Like almost everything about the movie, that's shrouded in secrecy; all that's known is that Leahy appears in a scene with Morgan Freeman and Christian Bale. Maybe he'll be a concerned stockholder warning Lucius Fox and Bruce Wayne that the arch criminal Bane's war on the elite is bad for business? Nah, too Jamie Dimon. I'm guessing he's one of the socialites seen in the trailer being dragged out of their hidey-holes, and that, in the finished print, we'll hear him shrieking, "Don't blame me! I endorsed Sotomayor!"
Leahy's office reveals that, now that Christopher Nolan's bat-cycle is finished, the Senator will further his interest in vigilantism by playing a PayPal representative in HBO's original movie I Thought He Was in Season: The George Zimmerman Story. At least, that's what the page who was working the holiday shift told me when I called this morning.